Latest articles
Latest galleries
Wel­come pho­tog­ra­phers, col­lec­tors and lovers of stere­oscopy!
No mat­ter if you are just curi­ous about how stere­oscopy works or if you've been tak­ing your own stereo pho­tos for years. Maybe you just found an old hand­held view­er in your grandpa's attic or your col­lec­tion of Vic­to­ri­an stereo slides has been grow­ing for decades. This page is for you.
You will notice that dif­fer­ent authors already have con­tributed arti­cles or pho­tos and that there are per­ma­nent teams for help and edi­to­r­i­al sup­port – this is because I don't want this site to be my per­son­al show­room, but to be a place for con­tent made by dif­fer­ent mem­bers of the stereo­scop­ic com­mu­ni­ty. I believe that a coop­er­a­tion of seri­ous and pas­sion­ate com­mu­ni­ty mem­bers will cre­ate an enrich­ing expe­ri­ence for all and help form inter­per­son­al con­nec­tions. That's why I would love to see it grow with your help.
I would be very hap­py to find peo­ple who are able and will­ing to share their knowl­edge, trea­sures and their stereopho­tos on here. Please feel free to get in touch via e‑mail: pascal@stereosite.com.
I will also post about my col­lec­tion, upload some pho­tos and share my own expe­ri­ences. Stay tuned!
Pas­cal Martiné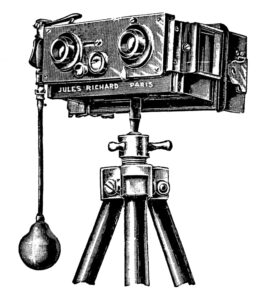 Individual help and feedback!
All of us, espe­cial­ly enthu­si­as­tic begin­ners, some­times face tech­ni­cal issues with our own stereo photos.
That's why we have launched a sup­port pan­el that you can send your images and indi­vid­ual ques­tions to. This way it is eas­i­ly pos­si­ble to work on images you are unsure about with­out upload­ing them any­where in pub­lic. Read more.

As sis­ter-sites the Brook­lyn Stereo­scop­ic Com­mu­ni­ty and the Stere­osite are in per­ma­nent col­lab­o­ra­tion. So most of the pre­sen­ta­tions from BSC meet­ings will be pub­lished as arti­cles after­wards, here on the Stere­osite.
But com­mu­ni­cat­ing direct­ly with oth­er BSC stereo enthu­si­asts is only pos­si­ble at www.brooklynstereoscopic.org.