Join the Virtual Stereoscopic Community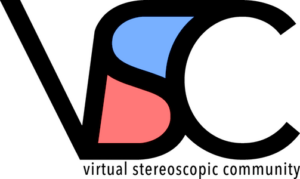 Every orga­ni­za­tion takes some amount of mon­ey to run, but as a vir­tu­al com­mu­ni­ty we don't need to rent rooms or print a jour­nal. That's why being a VSC mem­ber is total­ly free. You can par­tic­i­pate in a way you feel com­fort­able with: This could be as lit­tle as sim­ply attend­ing the meet­ings or receiv­ing the newslet­ter but could also mean giv­ing a pre­sen­ta­tion on a stereo top­ic you're famil­iar with. Of course, we hope you'll also inter­act with us and the oth­er mem­bers dur­ing the meet­ings — and hope­ful­ly also in between!
To pro­vide you all the infor­ma­tion nec­es­sary to par­tic­i­pate in our online meet­ings, we only require you use our sign-up form to pro­vide us with your name and your email address.
Give a Presentation
What­ev­er your area of spe­cial­iza­tion is, and whether you've been doing stere­oscopy for five weeks or five decades, we want to hear what you've got to say! Whether it's a dis­play of your own works, a his­tor­i­cal exam­i­na­tion of clas­sic stere­og­ra­phy, a trib­ute to a stere­o­g­ra­ph­er who has passed on, or any of a mil­lion oth­er top­ics – if it's focused on 3D, it belongs at the VSC. Con­tact our lead­er­ship team and we'll work with you to make a pre­sen­ta­tion you can be proud of, even if it's your first. If you are inter­est­ed in pre­sent­ing, please fill out this form.
Host a Workshop
Work­shops are gen­er­al­ly more col­lab­o­ra­tive and require a bit more knowl­edge to host suc­cess­ful­ly. As they gen­er­al­ly involve the entire audi­ence, and involve teach­ing new skills, they're not rec­om­mend­ed for those new to the field – you might feel over­whelmed or caught off guard. But for those who are pre­pared, work­shops are a great oppor­tu­ni­ty to show off the skills you've been hon­ing, and a fan­tas­tic way to teach those new to the hob­by about your areas of spe­cial­iza­tion. If you're inter­est­ed in host­ing a work­shop, please fill out this form.
Bring Your Friends
Know what's bet­ter than attend­ing a stere­og­ra­phy club meet­ing alone? Attend­ing with a friend! Spread the word about the VSC on your favorite social media site, or sit side-by-side on the couch in front of the device you're join­ing the meet­ing with. Too many peo­ple think that 3D is inac­ces­si­ble to them, when in real­i­ty, with a few bucks and an eBay account, you can start col­lect­ing today – and we'll show you how! Alter­nate­ly, if you want to cre­ate your own art, we have experts in that as well – hope­ful­ly with many more to join.