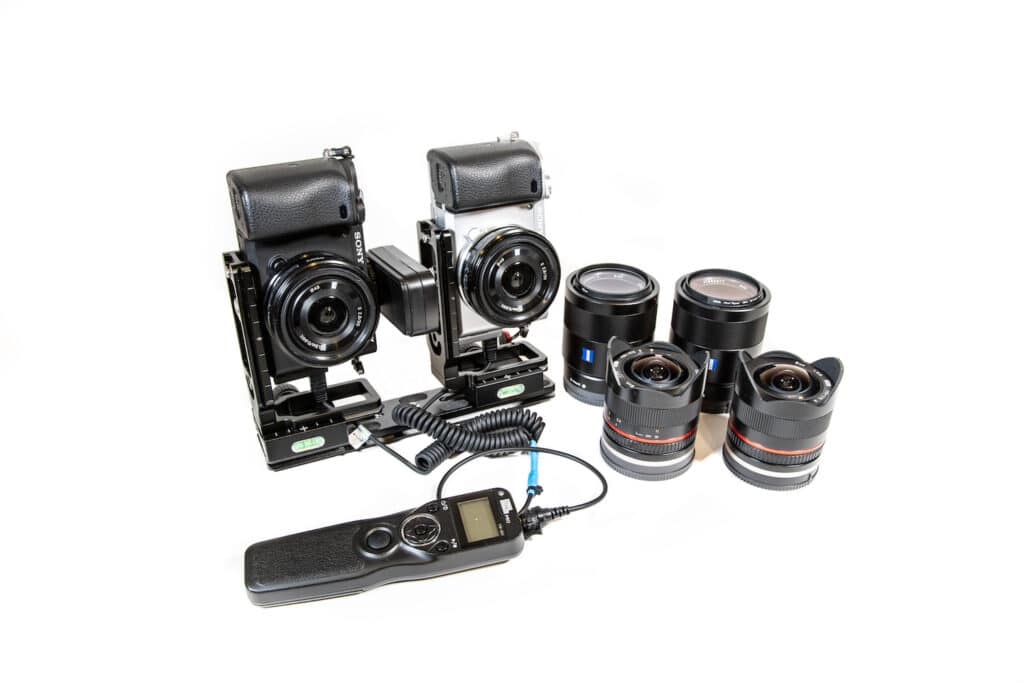 Equipment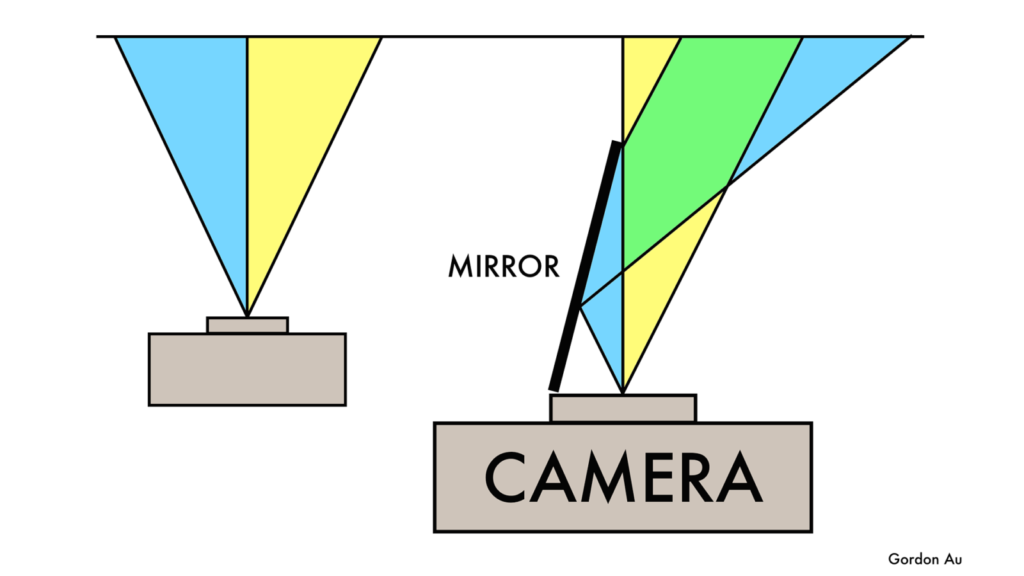 Technique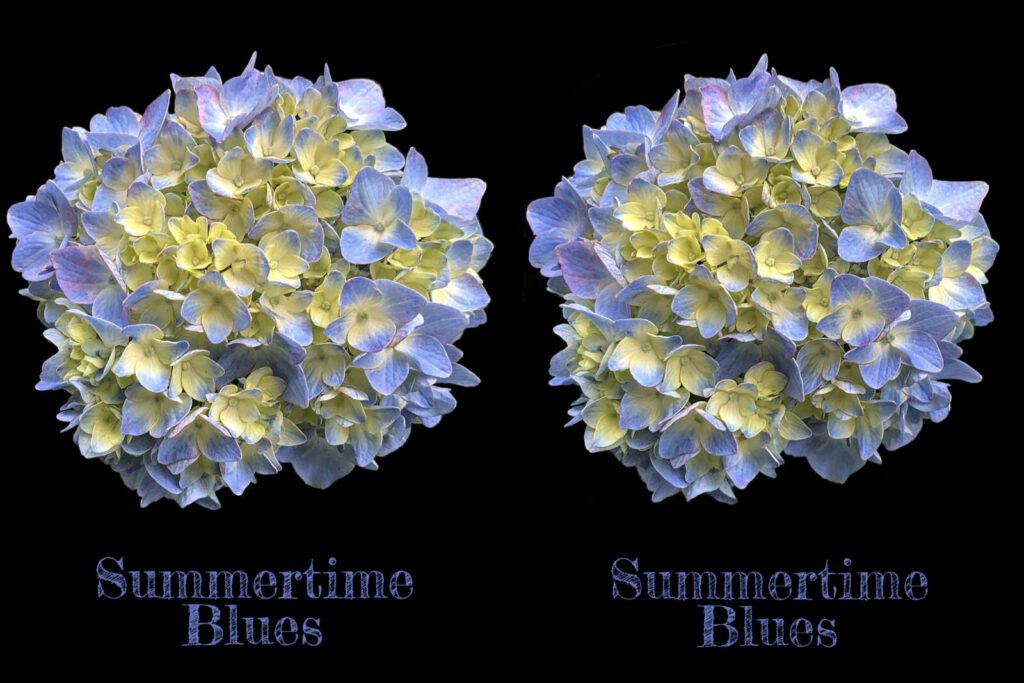 Editing
In this sec­tion, we bring to you detailed meth­ods and tech­niques relat­ed to sterepho­tog­ra­phy, from begin­ners and sea­soned pho­tog­ra­phers alike. The aim is to share tips and notes on how to get start­ed on spe­cif­ic meth­ods. In oth­er words, your per­son­al DIY stereo guide.
---
Latest articles
---
written for the stereosite by David Kuntz (Rancho Palos Verdes, California, USA)
Stereo pho­tog­ra­phy is a bit more demand­ing than tra­di­tion­al flat pho­tog­ra­phy, because a poor­ly ren­dered 3D image can be dif­fi­cult or unpleas­ant to view. So, the stereo pho­tog­ra­ph­er has to take addi­tion­al steps, not required with flat pho­tos, to avoid the prob­lems that lead to view­er dis­com­fort. The good news is that under­stand­ing a cou­ple of rel­a­tive­ly sim­ple con­cepts will allow you to con­sis­tent­ly pro­duce 3D images that are easy to look at, and have good 3D impact. And, once you've absorbed these ideas, it won't take you any time at all to rou­tine­ly per­form the actions nec­es­sary to accom­plish this.
What is the Stereo Window?
The series of three pho­tos shown here illus­trate a key 3D pho­tog­ra­phy con­cept that affects view­ing com­fort, name­ly, the stereo win­dow. Imag­ine that your screen has a rec­tan­gu­lar hole in it, and you're view­ing the 3D con­tent in this image through it. That is, you're see­ing the boy point­ing his fin­ger at you through a win­dow in your screen. The lat­tice of green lines in each image lies in the plane of your screen; in oth­er words, your eyes see the green lines as being the same dis­tance from you as your screen itself.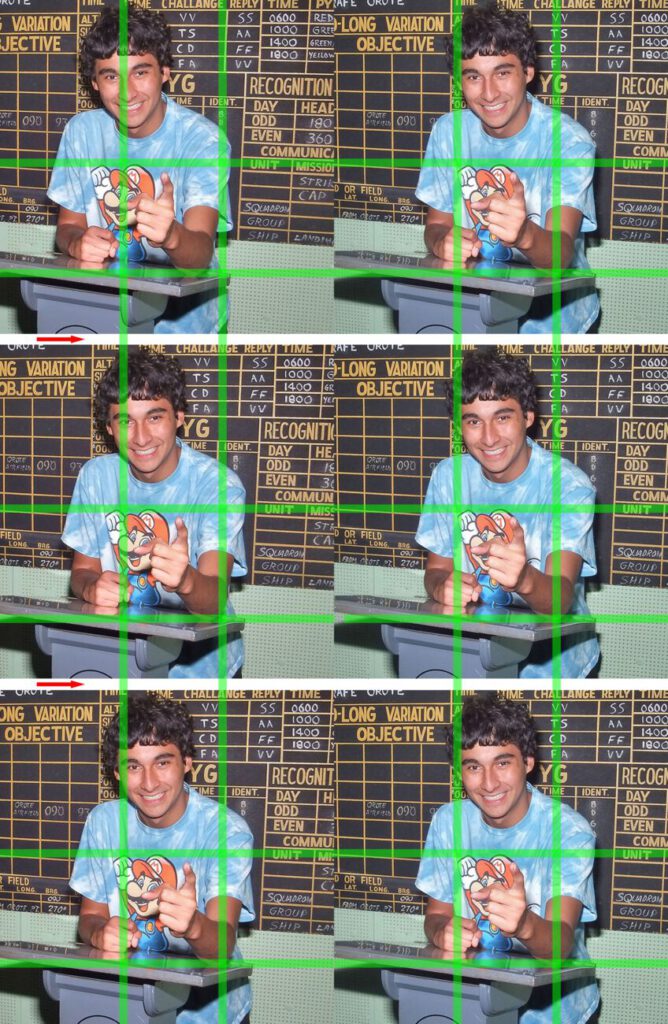 In the first 3D image pair (on top), the boy's hand (which is the clos­est object in the com­po­si­tion to you), appears behind the green lines, or behind this win­dow. In the next stereo pair (the mid­dle), his fin­ger has been moved clos­er, so that his fin­ger­tip is right at the plane of the win­dow; the exact same dis­tance from you as the green lines. In the last 3D image (bot­tom), his fin­ger­tip has now come through the win­dow, and is clos­er to you than the green lat­tice of lines.
These three 3D images are all the same pho­to. So, how did this trans­for­ma­tion in terms of their depth rela­tion­ship to the stereo win­dow (or plane of the screen) between them occur? The lit­tle red arrows between the pho­tos indi­cate how it works. If you com­pare the posi­tion of the boy's eyes in each of the left side images with the left­most green ver­ti­cal line, you can see that the entire image has been moved slight­ly to the right in each suc­ces­sive pair. The right side image doesn't move at all. This is pos­si­ble because the orig­i­nal pho­to has lots of addi­tion­al mate­r­i­al off the left and right edges that is being cropped off here.
This crop­ping, and how it relates to the win­dow is shown again in the next two pho­tos. Here, you can see this image is cropped down quite a bit (in oth­er words, there's lots more in the orig­i­nal image that's not being shown out­side the frame of the crop). But, by slid­ing the image left/right rel­a­tive to crop­ping rec­tan­gle (or stereo win­dow), the depth rela­tion­ship of the sub­ject mat­ter with respect to the win­dow is changed. What is not changed, how­ev­er, is the depth rela­tion­ship of ele­ments with­in the com­po­si­tion itself (such as the per­ceived depth dis­tance from the tip of the boy's fin­ger to the back­ground). Those were set when the image was orig­i­nal­ly tak­en, and can­not be sub­se­quent­ly changed. All, that's hap­pen­ing here is an adjust­ment in the rela­tion­ship of the image con­tent with respect to the frame it's con­tained in.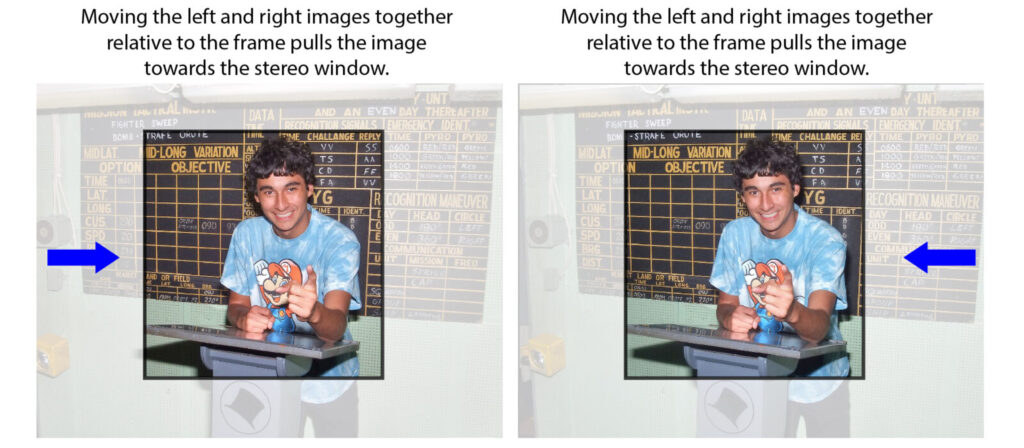 Why worry about the Stereo Window?
The next series of pho­tos is intend­ed to demon­strate why you should care about the posi­tion­ing of the stereo win­dow rel­a­tive to your pho­to. In the first one, the flower petals at the edge of the frame are in front of the stereo win­dow. This caus­es a bit of visu­al con­fu­sion, espe­cial­ly at the left edge of the frame. There's also some "shim­mer­ing" at the frame edges, because there's so much image mate­r­i­al that shows up at the edge of one image that doesn't appear at the cor­re­spond­ing edge of the oth­er image.
In the next pho­to, every­thing is far behind the stereo win­dow. This again caus­es a bit of "shim­mer­ing" on the left and right sides of the image because so much of what appears at the edges doesn't match up between the left and right. How­ev­er, this ver­sion isn't that unpleas­ant to view.
The third image has every­thing in the image set just behind the win­dow. It's com­fort­able to view, doesn't have a lot of shim­mer­ing at the edges.
If the dif­fer­ences point­ed out here aren't obvi­ous to you, don't wor­ry. Your sen­si­tiv­i­ty to how the win­dow is adjust­ed depends on a few fac­tors. First there are indi­vid­ual vari­a­tions in how we each per­ceive stereo pho­tos, and our tol­er­ance for these adjust­ment fac­tors. Next, the size of your dis­play, and your dis­tance from it, are also impor­tant fac­tors. If you're view­ing this tuto­r­i­al on a small phone screen, it's quite pos­si­ble that you either won't see the dif­fer­ences between the last three pho­tos, or won't be both­ered by them if you do. But, as dis­play size goes up, these dif­fer­ences become much more notice­able and dis­turb­ing. When viewed on a large screen 3D TV, or if pro­ject­ed on a large screen, even much small­er dif­fer­ences than those illus­trat­ed here can pro­duce a sig­nif­i­cant amount of view­ing dis­com­fort. The take­away from this is that if you're only show­ing your images on Insta­gram, you don't need to wor­ry about all this near­ly as much as if you're pro­ject­ing them for a crowd.
How Do I Control the Stereo Window?
So, if you now under­stand the need to set the posi­tion of your sub­ject mat­ter with respect to the stereo win­dow, the next ques­tion is how to accom­plish that. That turns out to be the easy part.
Two of the appli­ca­tions that can be used to read­i­ly per­form this adjust­ment are the Win­­dows-based pro­gram StereoPho­toMak­er, and the cor­re­spond­ing iPhone/Android app, 3DStereoid (both pro­duced by Masu­ji Suto). No mat­ter which pro­gram you use, the very first step you should take, before per­form­ing this win­dow adjust­ment, is to "auto-align" your image. This gets rid of any ver­ti­cal, rota­tion­al, per­spec­tive or oth­er mis­align­ments that can make a 3D image uncom­fort­able to view.
With auto-align­­ment com­plete, set the win­dow in StereoPho­to Mak­er by going to the "Adjust" menu, and then select­ing "Easy Adjust­ment." This brings up a large dia­log box with lots of options, along with your image dis­played in anaglyph (red/cyan) for­mat. To adjust the win­dow, just use the slid­er at the top of the win­dow (indi­cat­ed in red). This allows you to move the two images hor­i­zon­tal­ly rel­a­tive to each oth­er. As explained pre­vi­ous­ly, this will change the rela­tion­ship of your sub­ject mat­ter to the stereo win­dow.
Anoth­er option in StereoPho­to Mak­er is to stay in the main pro­gram win­dow, and then just use the left and right arrow keys to make this adjust­ment. Each press of the arrow key shifts the image a small amount, so it's eas­i­er to use the Easy Adjust­ment menu if a large shift is need­ed in order to get the right win­dow set­ting. This adjust­ment can be per­formed with your image dis­played in vir­tu­al­ly any for­mat; anaglyph, par­al­lel pair, cross-eye pair, and so on. So, you should prob­a­bly choose a dis­play method which you are actu­al­ly able to view in 3D.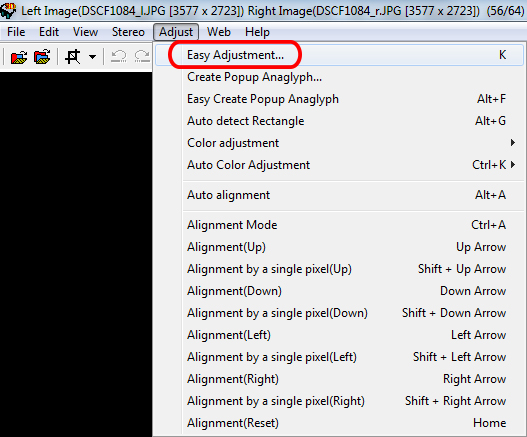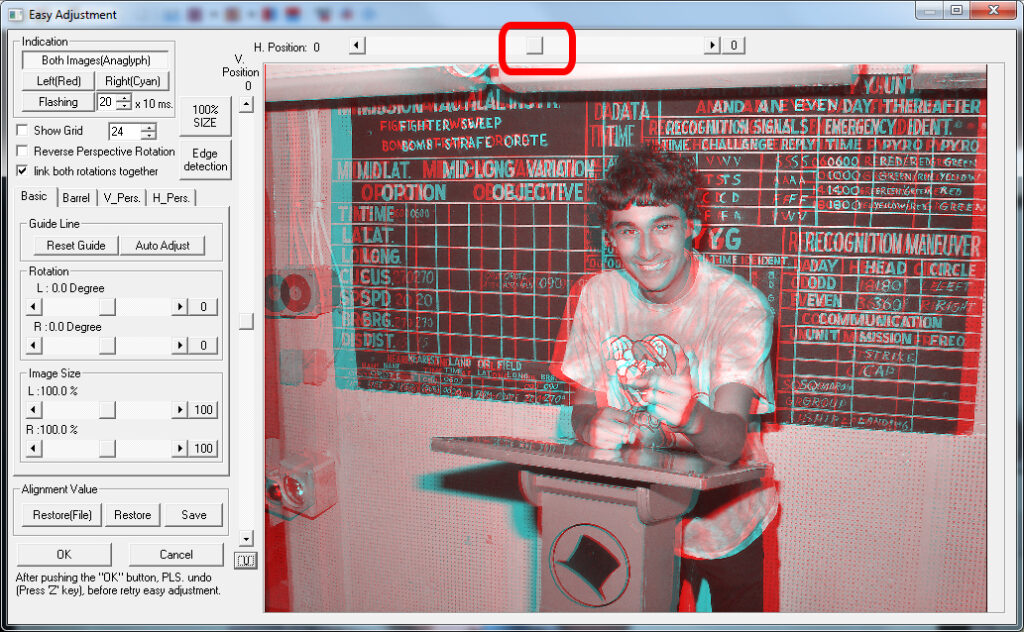 In the 3DStereoid app, this same func­tion­al­i­ty is avail­able by select­ing "Edit" from the main menu. Then, the left and right arrow but­tons (indi­cat­ed in yel­low in the graph­ic) will shift the images rel­a­tive to one anoth­er.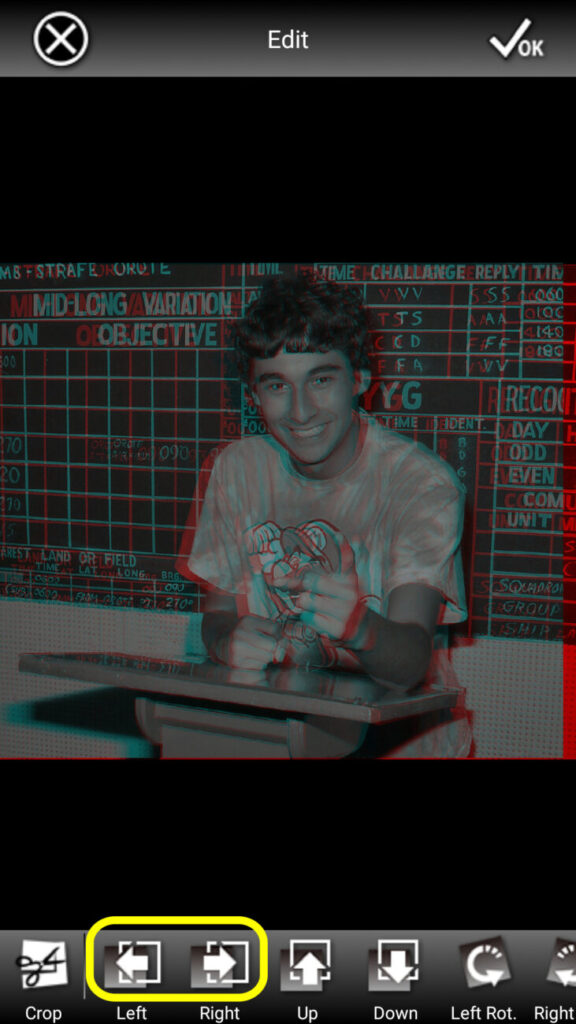 How do you know when you've got it right? Any part of your pho­to that doesn't have a red or blue fringe (that is, the red and blue images are per­fect­ly over­lapped there) when viewed in anaglyph is right at the stereo win­dow. This sit­u­a­tion is illus­trat­ed in the next graph­ic, which shows that the right side of the right­most flower in the image has no col­or fring­ing, and will there­fore be exact­ly at the stereo win­dow in terms of depth. The petal next to that does show a fringe, and won't be at the win­dow. It can be help­ful to view your image through anaglyph (red/cyan) glass­es dur­ing this process to visu­al­ize the rela­tion­ship of sub­ject mate­r­i­al to stereo win­dow, or alter­nate­ly, in anoth­er for­mat that you can actu­al­ly view in stereo. Often, a final step of crop­ping your 3D image may be help­ful after set­ting the win­dow. This can be help­ful to elim­i­nate parts of your pho­to that don't match up well or are visu­al­ly dis­tract­ing after win­dow­ing has been per­formed.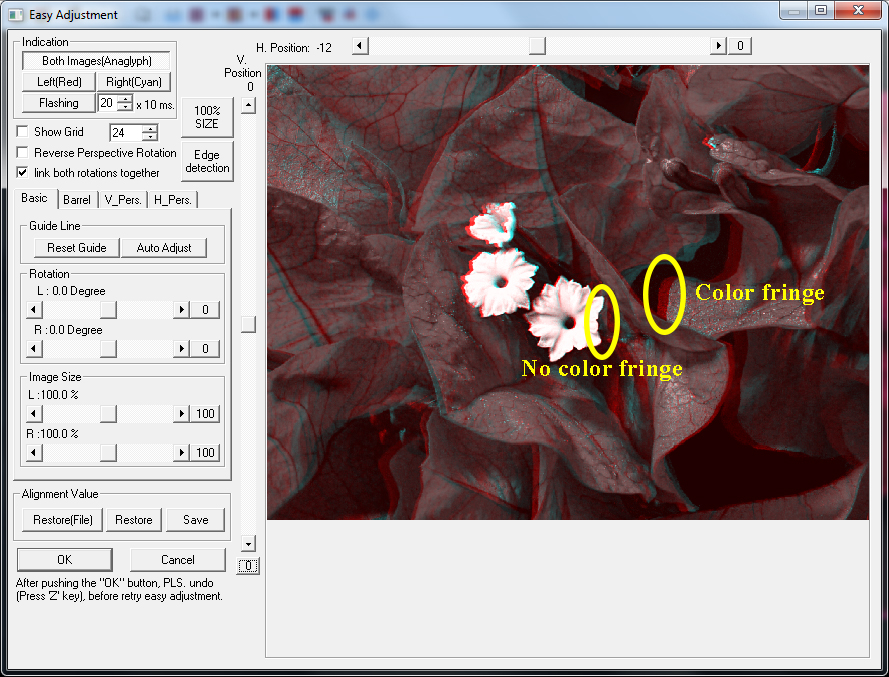 Conclusion
Hope­ful­ly, this tuto­r­i­al has shown you the need for stereo win­dow adjust­ment and it's ben­e­fits, and giv­en you a sim­ple, easy to use method for per­form­ing that adjust­ment. The key take­aways to remem­ber are:
"Shoot loose." That is, be aware when you're tak­ing your pho­to that you'll prob­a­bly end up los­ing some of it on top and bot­tom dur­ing auto-align­­ment, and on the left and/or right dur­ing win­dow­ing. So, pur­pose­ful­ly include a bit more on all sides to accom­mo­date this even­tu­al­i­ty.
The depth con­tained with­in your image is deter­mined when you take it, and can nev­er be changed. What you can change dur­ing sub­se­quent adjust­ment is the rela­tion­ship between you sub­ject mat­ter and the stereo win­dow (the frame of the pho­to).
Always per­form an auto-align­­ment on your 3D image(s) first, before com­menc­ing any oth­er pro­cess­ing oper­a­tions.
You'll often want to per­form a final crop­ping step after win­dow­ing an image to "clean it up." That is, crop out any­thing that some­how got cut off by the process or doesn't look right.
Win­dow­ing can help make your pho­tos eas­i­er to view, and should be done on every sin­gle 3D image you make. But, it becomes increas­ing­ly impor­tant as you go to larg­er dis­plays. So, it's not near­ly as impor­tant for images intend­ed for view­ing on a small cell­phone screen, but it's absolute­ly crit­i­cal for large screen pro­jec­tion. But, it's easy to do, so why not get in the habit right now?
written for the stereosite by Gordon Au, USA
If you already take stereopho­tos using the sequen­tial ('cha-cha') method with your phone or cam­era, you're undoubt­ed­ly aware of its lim­i­ta­tions: your main sub­ject has to remain per­fect­ly still; peo­ple and cars mov­ing in the back­ground cre­ate dis­crep­an­cies; chang­ing light between shots is a prob­lem; windy days can be impos­si­ble. How­ev­er, you may or may not know that adding a small hand­held mir­ror to your stereo arse­nal can help you over­come many of these prob­lems. With the mir­ror reflect­ing half of the camera's view, you can cap­ture an entire stere­opair in a sin­gle shot, elim­i­nat­ing tim­ing-relat­ed issues. Though it depends on the mir­ror and camera(lens), this is usu­al­ly best for close-up shots:
This fig­ure shows the basic prin­ci­ple: the mir­ror reflects one half of the camera's view (in blue) over to the oppo­site side, where it over­laps with the oth­er half view (in yel­low). For every­thing in the green over­lap area, you get 2 dif­fer­ent views—stereopair poten­tial! Tech­ni­cal­ly, a sys­tem that com­bines a mir­ror and lens like this is called cata­diop­tric.
The trick­i­est part of tak­ing cata­diop­tric stere­os is posi­tion­ing and hold­ing the mir­ror. The basic steps are:
Bring the ver­ti­cal mir­ror right up to the cam­era lens (but not touch­ing it!).
Move the mir­ror to the side, until the near edge is no longer vis­i­ble to the cam­era.
Tilt the far edge of the mir­ror back towards the cen­ter, until approx­i­mate­ly half the cam­era view is reflect­ed.
You can do this on either side — whichev­er is more com­fort­able.
When you start out, you will need to fine-tune the mir­ror posi­tion and tilt. I rec­om­mend tak­ing a series of test shots, using the same sub­ject (at ~1–2 mir­ror lengths away), and with dif­fer­ent com­bi­na­tions of mir­ror posi­tions and tilts:
Shot #1: mir­ror 0mm from lens edge / 40% of view reflect­ed
Shot #2: mir­ror 0mm from lens edge / 50% of view reflect­ed
Shot #3: mir­ror 0mm from lens edge / 60% of view reflect­ed
Shot #4: mir­ror 3mm from lens edge / 40% of view reflect­ed
Shot #5: mir­ror 3mm from lens edge / 50% of view reflect­ed
Shot #6: mir­ror 3mm from lens edge / 60% of view reflect­ed
Shot #7: mir­ror 6mm from lens edge / 40% of view reflect­ed
(And so on…)
To process the shots, sim­ply:
Straight­en if nec­es­sary, so the mir­ror edge is per­fect­ly ver­ti­cal.
Sep­a­rate the two images.
Un-reflect (hor­i­zon­tal­ly flip) the mir­ror image.
Edit the two images as you would for any stere­opair.
I rec­om­mend using StereoPho­to Maker's auto-align func­tion
After pro­cess­ing, go back to your notes, and see which com­bi­na­tion of mir­ror posi­tion and tilt worked the best. (What amount of depth do you pre­fer? Which stere­opairs turn out the clean­est?) You might want to fol­low up with more test shots of sub­jects at dif­fer­ent dis­tances.
Beyond 'get­ting start­ed,' there are fur­ther details worth dis­cussing about mir­ror stere­os, includ­ing the ide­al mir­ror (size; shape; type: a front sur­face mir­ror (first sur­face mir­ror), which you can find on Ebay), pre­cise pro­cess­ing (crop­ping, match­ing size and focus, cor­rect­ing for key­stone dis­tor­tion), his­to­ry and the­o­ry, and more. Learn about some of these in "DIY Cata­diop­tric Stere­os" a video tuto­r­i­al I made for the Nation­al Stereo­scop­ic Association's 3D-Con 2020. Also, check out the cor­re­spond­ing gallery and see #cata­dioptric­stereo on Insta­gram for exam­ple shots.
Feel free to send ques­tions through my web­site WorldOfDepth.com, or via Insta­gram. Have fun exper­i­ment­ing, and I look for­ward to see­ing your mir­ror stere­os!
Gordon Au (New York, USA)
I am an avid stere­o­g­ra­ph­er and gen­er­al 3D exper­i­menter, mak­ing stereopho­tos, stere­ovideos, anaglyphs, extrac­tions, and con­ver­sions, draw­ing upon a vari­ety of sources, includ­ing TV and film, art­work, NASA data, prod­uct reviews, and more. I exper­i­ment with cata­diop­tric stere­os, asym­met­ric fram­ing, video pan­ning / zoom­ing of 3D stills, x‑rays and fog as depth map sources, and more. I am a proud mem­ber of and have pre­sent­ed and/or writ­ten for the New York Stereo­scop­ic Asso­ci­a­tion, the Nation­al Stereo­scop­ic Asso­ci­a­tion, and the Inter­na­tion­al Stereo­scop­ic Union.

Web­site: WorldOfDepth.com
Insta­­gram-pro­­file: World­OfDepth
YouTube-pro­­file: World­OfDepth
written for the stereosite by Graeme Barclay, Scotland
If you are already tak­ing stereo pic­tures, well done! How­ev­er, if you desire to broad­en your hori­zons by cap­tur­ing more chal­leng­ing images, for exam­ple freez­ing motion, or cre­at­ing dra­mat­ic land­scapes, then a twin cam­era set up may be the answer.
Like many peo­ple I start­ed in stereo pho­tog­ra­phy with my cel­lu­lar phone respec­tive­ly one cam­era, tak­ing sequen­tial stere­os. While this is ade­quate in many cir­cum­stances where there is no move­ment between the two frames, how­ev­er it is lim­it­ing. For exam­ple, back­ground move­ment, or water move­ment in rivers or the sea ruins stereo pic­tures tak­en using this method.
After three years of tra­di­tion­al pho­tog­ra­phy and hav­ing the advan­tage of work­ing along­side pro­fes­sion­al pho­tog­ra­phers, I soon real­ized I was look­ing to cre­ate high qual­i­ty stereo images. To do this I required two cam­eras and a means to trig­ger them in sync. I also want­ed the flex­i­bil­i­ty to have inter­change­able lens­es to enable a wide range of styles, which also pro­vides the abil­i­ty to add neu­tral den­si­ty fil­ters for long expo­sure pho­tog­ra­phy.
Setting up
So now I have twin cam­eras. Ide­al­ly, two cam­eras exact­ly the same would be the best plan, how­ev­er, I have a Sony A6300 and a Sony A6400. These work well togeth­er. I mount­ed these togeth­er on a 30cm plate. Next, I need­ed to find a way to link them togeth­er. Sony does make a sync a cable to link these cam­eras, so trig­ger­ing one cam­era auto­mat­i­cal­ly trig­gers the oth­er. While this does work, I also need­ed to trig­ger the cam­eras remote­ly remov­ing any chance of cam­era shake. It is also much more con­ve­nient to be able to trig­ger the cam­eras from a dis­tance with­out any trail­ing cable.
Remote control
I bought a wire­less set up on Ama­zon as well as two addi­tion­al cables. I cut off the orig­i­nal stereo jack plugs and sol­dered on an ordi­nary stereo jack cable I had. Con­nect­ing the third cable wasn't as easy, as the colours of the wiring in this cable were dif­fer­ent from the oth­er two. I con­nect­ed an old cam­era and start­ed test­ing to see if this worked while keep­ing notes of the many failed attempts. I do not advise a tri­al and error of this type as it may dam­age your cam­era. It might be advis­able to get cables of the same type so that the colours will prob­a­bly match per­fect­ly or to seek pro­fes­sion­al or advice from your cam­era man­u­fac­tur­er. At least, all this depends much from what cam­eras and what kind of remote con­trol you include in the set up. So you might encounter some­thing sim­i­lar, hope­ful­ly you will not.
Final­ly, it all came togeth­er, and it was work­ing! I could both focus with the half press and fire with the full press of the but­ton. The elec­tron­ic shut­ter release of this type is sim­ple to use and has a pos­i­tive dis­tinc­tion between focus and shut­ter release. Final­ly, this set up allows cable release as well as wire­less release. Chang­ing from cable to wire­less could not be sim­pler. Remov­ing the jack plug from the trans­mit­ter and con­nect­ing it to the receiv­er works per­fect­ly. Instruc­tions to pair the trans­mit­ter and receiv­er are pro­vid­ed and sim­ple to fol­low.
Synchronisation
Now that it is all con­nect­ed, how could I make sure it was real­ly syn­chro­nized? I opened my lap­top, searched for a stop clock and let it run, focus­ing both cam­eras on the screen and fir­ing them. My first few attempts showed there was 1/20th sec of dif­fer­ence between both cam­eras. For my approach, this was unac­cept­able. This was not only due to my using two dif­fer­ent cam­era mod­els. I began scrolling through each of the cam­era menus, mir­ror­ing every set­ting until I was suc­cess­ful. Both cam­eras were sync­ing per­fect­ly on sin­gle frame and sin­gle focus. How­ev­er, I still can't get these to sync in con­tin­u­ous focus set­ting, silent mode or in a burst of more than one frame.
Mounting the cameras
Con­nect­ing L brack­ets to cam­eras is extreme­ly ben­e­fi­cial as this makes it eas­i­er to switch from por­trait to land­scape very quick­ly. Shoot­ing in land­scape will pro­vide more flex­i­bil­i­ty when it comes to align­ing images, espe­cial­ly for novices. My per­son­al pref­er­ence is shoot­ing in por­trait. At the point of shoot­ing I am always very care­ful with fram­ing, so I do not crop much of the pic­ture in edit­ing.
My most recent addi­tion for stereo astro pho­tog­ra­phy is a 600cm base plate, allow­ing a far wider base where there is no close fore­ground to enhance the stereo effect. Enlarg­ing the base­line is also ben­e­fi­cial for land­scape pho­tog­ra­phy.
Advantages of twins
Whilst the cel­lu­lar phone in many instances will take good qual­i­ty stereo pic­tures, which is ade­quate for social media or web­site gal­leries, there are many dis­tinct advan­tages of hav­ing a twin stereo set up for simul­ta­ne­ous stereo pho­tos.
Man­u­al con­trol of shut­ter speed, aper­ture, ISO and focus
Aper­ture or shut­ter pri­or­i­ty or full man­u­al
Freez­ing motion
Con­trol­ling the depth of field
Much larg­er file sizes suit­able for pro­jec­tion
Shoot­ing in RAW files, allow­ing deep­er post edit­ing
Mul­ti­ple lens­es, from tele­pho­to to super fish­eye wide angle
Able to use Neu­tral den­si­ty fil­ters enabling very long expo­sures
Gra­di­ent fil­ters for when the sky is too bright
Con­nect­ing to an exter­nal flash
All that said, I am no way dis­miss­ing the unique flex­i­bil­i­ty of shoot­ing stereo using the cel­lu­lar phone. Its cam­eras are con­tin­u­ing to improve. Your phone is always with you. There are many apps for align­ing and edit­ing stereo images, the screen size allows for instant free-view­ing, and post­ing on social media is extreme­ly quick and easy.
Graeme Barclay (Edinburgh, Scotland)
At this point, I've been tak­ing dig­i­tal pho­tographs for a lit­tle over three years and stereo pho­tog­ra­phy for around six months. I'm employed with­in the finan­cial sec­tor but have had many years expe­ri­ence in hydraulic engi­neer­ing and over­com­ing tech­ni­cal issues.

Insta­­gram-pro­­file: mys­tere­opics