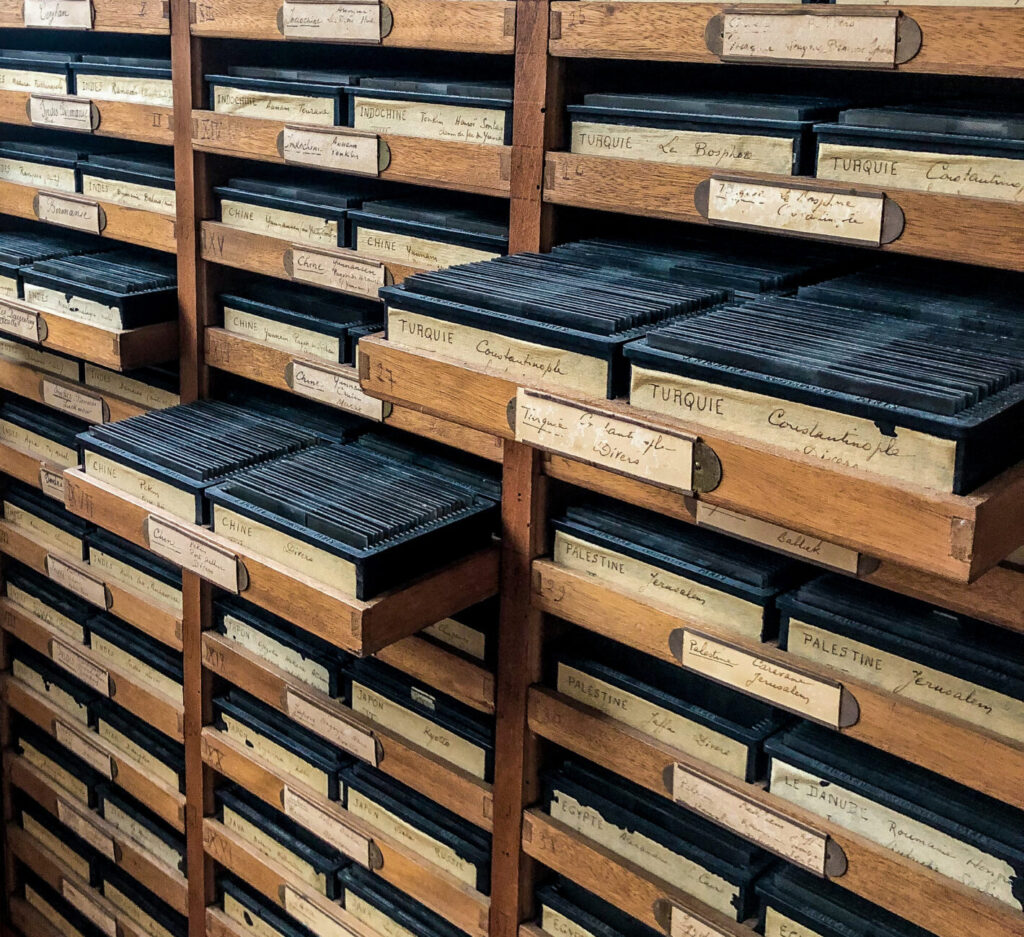 Antique stere­oviews are your tick­et to time trav­el, and can tell great sto­ries from the past! Look­ing at a vin­tage card through your stere­o­scope, you can step right into the scene and imag­ine how things must have been for peo­ple in a par­tic­u­lar era. The pop­u­lar­i­ty of this medi­um in the 19th and ear­ly 20th cen­tu­ry now allows us to view his­to­ry via this immer­sive medi­um. This sec­tion is devot­ed to the mag­ic of antique stereo-pho­tographs. Learn all about the do's and don'ts of col­lect­ing antique stere­oviews, and build­ing a well curat­ed col­lec­tion of your own here. We will also peri­od­i­cal­ly share stere­oviews that are part of pri­vate collections.
---
Latest articles
---
written for the stereosite by Rebecca Kilbreath, USA
It's prob­a­bly safe to assume that most peo­ple were intro­duced to 3D images via View-Mas­ter. Intro­duced at the 1939 New York World's Fair, the hand­held 3D view­er was a very pop­u­lar for­mat that sold lit­er­al­ly bil­lions of prod­ucts from the 1940s right on through the 2000s. Here you'll find a brief his­to­ry of View-Mas­ter, some images from my col­lec­tion and key con­tent cat­e­gories that may be of inter­est to those look­ing to start or grow their collections.
View-Mas­ter was invent­ed by William Gru­ber in the 1930s, work­ing with Sawyer's Inc of Port­land, Ore­gon. Sawyers was then called Sawyer's Pho­to Fin­ish­ing Ser­vice and was one of the world's largest pro­duc­ers of scenic postcards.
The View-Mas­ter was intro­duced at the 1939 New York World's Fair, just a cou­ple of years after the inven­tion of Kodachrome film. View-Mas­ter used Kodachrome exclu­sive­ly until the late 1970s, and because of this, the vast major­i­ty of View-mas­ter trans­paren­cies retain their col­or and vibran­cy over time.
View-Mas­ter was orig­i­nal­ly mar­ket­ed as an excit­ing alter­na­tive to scenic post­cards. The reels were most often sold at pho­tog­ra­phy stores, gift shops at scenic attrac­tions, and via mail order. When I first start­ed col­lect­ing, that era was my pri­ma­ry focus. It gave me the oppor­tu­ni­ty to view these lit­tle time cap­sules, to take a quick vaca­tion to the past.
As my col­lec­tion grew, so, too did the geo­graph­ic span of images. View-Mas­ter was tru­ly try­ing to cap­ture pho­tos from every cor­ner of the globe they could get to. There are many reels of far-flung fes­ti­vals and lots of arti­sans and peo­ple at work, includ­ing a man carv­ing ivory in Hong Kong, a woman mak­ing fil­i­gree sil­ver jew­el­ry in Yucatan, Mex­i­co, a man carv­ing a boat in Pana­ma. There are pho­tos from life on every con­ti­nent and most major cities, even Rus­sia dur­ing the cold war.
There are also many U.S. com­mu­ni­ties of peo­ple rep­re­sent­ed includ­ing Native Amer­i­cans, Cre­ole and Gul­lah. Glob­al­ly, there are groups of peo­ple and even entire places that no longer exist. There's an entire pack­et ded­i­cat­ed to Zuiderzee, a fish­ing vil­lage in The Nether­lands that exist­ed before they built the dams that put the city under water.
I've learned a lot about the world and the past through View-Mas­ter. And that's by design.
William Gru­ber and the folks at Sawyer's tru­ly believed in this prod­uct as an edu­ca­tion­al tool. There are many exam­ples of edu­ca­tion­al reels over the years. Notably, in the 1940s, the U.S. mil­i­tary pur­chased around 100k view­ers and sev­er­al mil­lion reels. From range esti­ma­tors to in-air iden­ti­fi­ca­tion, these tools were used in train­ing. Oth­er edu­ca­tion­al reels pro­duced includ­ed mush­room iden­ti­fi­ca­tion, flower iden­ti­fi­ca­tion, a sweep­ing his­to­ry of Chi­nese art and med­ical reels ded­i­cat­ed to body dissection.
The edu­ca­tion­al reels over­lap with anoth­er key com­po­nent of Saywer's View-Mas­ter busi­ness that was there from the begin­ning: the pro­duc­tion of com­mis­sioned com­mer­cial reels. Com­mer­cial reels sold just about any­thing you could name, from bour­bon to tooth­paste to farm ani­mals. Movie pre­view reels are some of the most sought-after by col­lec­tors. They were used exclu­sive­ly in movie the­aters as a way to pro­mote upcom­ing movies dur­ing the 3D movie craze of the 1950s.
Also in the 1950s, Sawyer's pur­chased Tru-Vue, the company's main com­peti­tor. While this wiped out the com­pe­ti­tion, it also cap­tured the licens­ing rights to Walt Dis­ney Stu­dios. Four years lat­er, Dis­ney­land would open, and the rest is his­to­ry. It was a wild­ly suc­cess­ful part­ner­ship for both brands that spanned many decades. There in many who just col­lect View-Master's Dis­ney items and that's prob­a­bly enough to keep a per­son busy for years.
Anoth­er area for col­lec­tors and a big thing for Sawyer's in the 1950s, involved their end-to-end ser­vice for per­son­al reels. They sold a View-Mas­ter per­son­al stereo cam­era, film cut­ter and mount­ing sup­plies. The even sold a 3D pro­jec­tor called the Stereo-Mat­ic 500 that required a sil­ver screen and polar­ized glass­es. A bud­ding pho­tog­ra­ph­er could do every­thing them­selves from start to fin­ish, but if you didn't want to make your own reels, the fine folks at Sawyer's would do it for you via their mail-in service.
The Toy Shelf
Most peo­ple asso­ciate View-Mas­ter with car­toons and pop cul­ture. And that's part­ly because, in the 1960s, GAF Cor­po­ra­tion pur­chased View-Mas­ter. They leaned heav­i­ly into pop cul­ture and kids reels. And, while they saw suc­cess, by the late 1970s, cost cut­ting mea­sures led to GAF switch­ing to less­er film stocks and qual­i­ty over­all dropped. View-Mas­ter changed hands a cou­ple more times but by the late 1990s was owned by Mat­tel and nes­tled under the Fish­er-Price brand, plac­ing it firm­ly in the preschool­er toy aisle.
While that out­come is a bum­mer for those who don't care about car­toons and oth­er kids pro­gram­ming, one neat thing about VM is that it's from lit­er­al­ly everyone's child­hood. Any view­er can show you any reel, from 1939 on. So, every­body — from grand­ma to a mod­ern preschool­er — enjoyed the same tac­tile experience.
There's some­thing pro­found in these shared child­hood touchpoints.
Many col­lec­tors start out by acquir­ing things they had and loved in child­hood. If you were a kid in the 1960s, you might want the Mon­kees set; in the 1970s, Eight is Enough; in the 1980s, Knight Rid­er. If you love sci-fi, there's every­thing from a visu­al­ly stun­ning Twen­ty Thou­sand Leagues Under the Sea dio­ra­ma set to scenes from the set of Dune in 1984. Numer­ous space-race and NASA-themed reels exist. And many major pop cul­ture fran­chis­es are rep­re­sent­ed includ­ing Mar­vel, Indi­ana Jones, Juras­sic Park and Har­ry Potter.
In terms of reels direct­ed at chil­dren, it seems the dio­ra­ma reels in par­tic­u­lar hold a spe­cial place in the hearts of col­lec­tors. The scenes cre­at­ed by Flo­rence Thomas, Joe Lip­tak and oth­er sculp­tors who worked at View-Mas­ter has had a last­ing impact. I know this because I start­ed an Insta­gram account in the fall of 2020 to share images from my View-Mas­ter col­lec­tion, and I was hap­pi­ly sur­prised to find so many peo­ple who love View-Mas­ter. Many of my fol­low­ers are them­selves artists — car­toon­ists, illus­tra­tors, pup­peteers and painters — who have told me that View-Mas­ter serves as inspi­ra­tion in their own work today. It's not hard to under­stand why.
The sculp­tors did incred­i­ble work, and the dio­ra­ma reels are well worth seek­ing out. And those of you with an inter­est in stereo­scop­ic pho­tog­ra­phy should def­i­nite­ly check them out. The table­top 3D pho­tog­ra­phy pro­duced for these reels is unparalleled.
Semiotics — Who's Here and Who's Not
Of course, it would be ridicu­lous to not men­tion that the past is a decid­ed­ly prob­lem­at­ic place.
With a degree in film stud­ies, I can't help but think about the mean­ings and sym­bols found in com­pelling images from the past. What did the images say to peo­ple at the time? Who did they include? And, some­times, more impor­tant­ly, who did they leave out?
Era­sure is prob­a­bly the neat­est trick VM ever pulled — it's some­thing that the dom­i­nant cul­tur­al nar­ra­tive excels at. Black adult Amer­i­cans are often absent from reels though smil­ing chil­dren are rep­re­sent­ed semi-reg­u­lar­­ly. The state tour pack­ets often include a few sur­pris­es and reg­u­lar peo­ple of all races and class­es work­ing reg­u­lar jobs. Many of the reels pro­duced by the View-Mas­ter fac­to­ry in Bel­gium include incred­i­ble glimpses into places it would be dif­fi­cult to see oth­er­wise, from cheese being made at an abbey in the 1940s in Switzer­land to how tea was made in India in the 1950s. The edu­ca­tion­al com­po­nents and the desire to share images from every cor­ner of the globe was sin­cere at Sawyer's, and I find the far­ther from home I get in View-Mas­ter reels, the more I learn.
And, for me, that's one of the key ele­ments of col­lect­ing: The thrill of dis­cov­ery. While I love to see places and peo­ple I would oth­er­wise nev­er see, there's a spe­cial place in my heart for the weird­er stuff.
I enjoy images of tourists traps, of fes­ti­vals and kitschy events — like drunk­en rev­el­ers at Mar­di Gras or Rio's Car­ni­val in the 1940s.
A few more weird things I've found and loved: There are two entire com­mer­cial reels ded­i­cat­ed to Here­ford Ranch's Heifer sale of 1953. Each cow looks alike unless you know some­thing about buy­ing livestock.
The Paris pack­et is fan­tas­tic and includes this image with the cap­tion "tramps live under the bridges of Paris." I just don't think they ever would have includ­ed such an image in a reel about the Unit­ed States.
A bizarre FBI pack­et fea­tures a made-up kid­nap­ping plot but takes place at the real FBI head­quar­ters and feautres a 3D pho­to of J. Edgar Hoover.
And even though kids reels are some­what out­side my wheel­house, there are many fun ones to be found. I just recent­ly dis­cov­ered these creepy-hilar­i­ous Hug­ga Bunch reels from 1985.
This is just the tip of the ice­berg when it comes to View-Mas­ter con­tent cat­e­gories. One of the best things about View-Mas­ter is that it cov­ered so many sub­jects that, as my per­son­al inter­ests have evolved, so, too, has my collection.
written for the stereosite by Martin Schub, USA
At a recent meet­ing of the VSC, some­one asked if there are stereo views of true crime. I'm not a big true crime fan or a stereo schol­ar, but this seemed like a fun pan­dem­ic online research project. What is meant by true crime? It's a non­fic­tion genre hav­ing to do with actu­al crimes, usu­al­ly mur­der. It's pop­u­lar now, but it was pop­u­lar in the 19th cen­tu­ry too‒just think of the pen­ny press and the Nation­al Police Gazette. As the joke says, "Crime may not pay, but it sells!". I was curi­ous to see if it made its way into stereo cards, too.
Almost all the mate­r­i­al I found was for Amer­i­cans. The images you'll see come only from online sources, most­ly the Library of Con­gress and the New York Pub­lic Library. I had nev­er heard of any of these mur­der­ers, but amaz­ing­ly, two of them have their own Wikipedia arti­cles and I was eas­i­ly able to find some mate­r­i­al on the rest also. Con­verse­ly, I was unable to find mate­r­i­al con­nect­ed to some mur­der­ers who are still house­hold names in the U.S., like Lizzie Bor­den or Alferd G. Packer.
In what fol­lows, I've tried to pro­vide a thumb­nail sketch of each crime. Accounts from the time often vary, so I've tried to present a com­pos­ite set of the facts which I think are the most likely.
Please note: Most of these stere­os are G‑rated, but there are a few which may be dis­turb­ing to some peo­ple. Specif­i­cal­ly, there are two hang­ings (both shown before the trap­door opened) and one dead body. Also some of the descrip­tions of the crimes may be dis­turb­ing. These are images of mur­der and cap­i­tal pun­ish­ment, and they're not pretty.
Assassinations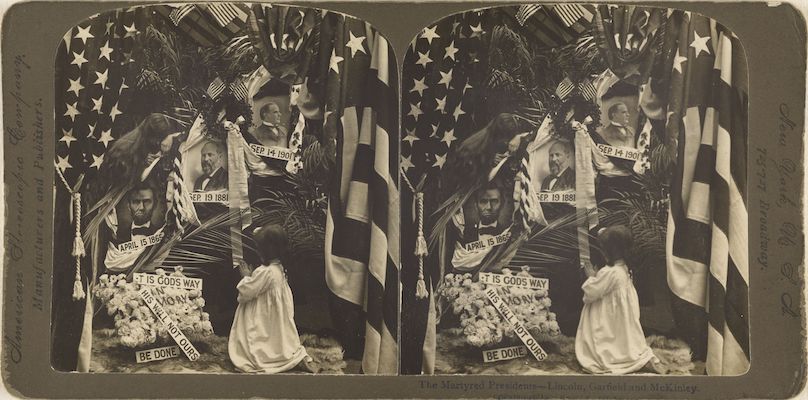 The first thing that comes to mind for true crime in stereo was Ead­weard Muy­bridge, but more about him lat­er. The sec­ond thing was the assas­si­na­tions of three US pres­i­dents: Abra­ham Lin­coln in 1865, James Garfield in 1881, and William McKin­ley in 1901. This stereo memo­ri­al­izes all 3, in true maudlin turn-of-the-cen­­tu­ry style, but with great stereo­scop­ic depth!
Lincoln Assassination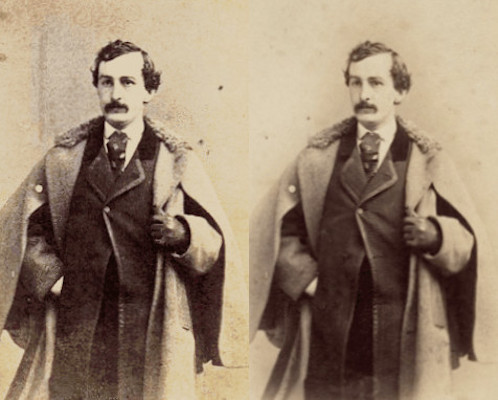 This is the only stereo I could find of John Wilkes Booth, who shot Lin­coln. It's an acci­den­tal stereo, assem­bled by John J. Richter from two carte-de-vis­ite images where Booth moved a lit­tle between expo­sures. As a result, the depth is a bit exaggerated.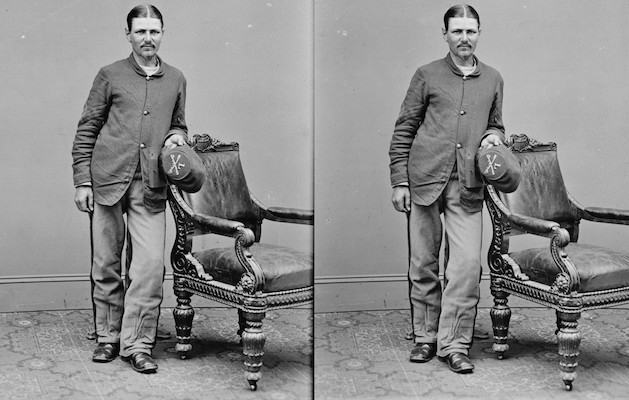 On April 26, 1865, Boston Corbett's reg­i­ment had sur­round­ed Booth and one of his accom­plices in a tobac­co shed in Vir­ginia. They were under orders to take Booth alive, but some­body shot him any­way. There are doubts about whether it was Cor­bett, but he took the cred­it (or blame). He was to have been court-mar­shalled, but the Sec­re­tary of War intervened.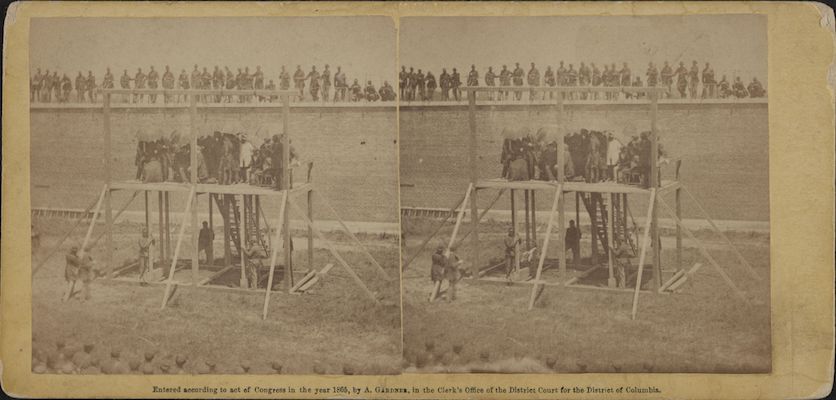 The assas­si­na­tion of Lin­coln was part of a broad­er con­spir­a­cy. Booth isn't in this pho­to, hav­ing already been killed. The hanged were: David Herold, who helped Booth escape, Lewis Pow­ell, who tried to kill Sec­re­tary of War Seward, George Azterodt, who was sup­posed to kill Vice Pres­i­dent Andrew John­son but lost his nerve, and Mary Sur­ratt, who owned the board­ing house where the con­spir­a­tors met, and who was the first woman to be exe­cut­ed by the U.S. government.
Garfield Assassination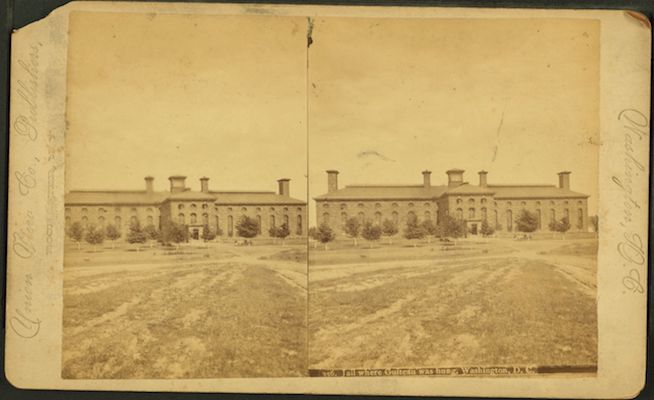 This is the old DC jail where Charles Gui­teau, who shot Pres­i­dent James Garfield, was held and even­tu­al­ly hanged. While he was held here, two attempts were made to shoot Gui­teau, includ­ing one by one of his guards. Peo­ple took up a col­lec­tion for the guard‒that's how pop­u­lar Gui­teau was.
It took Garfield almost 3 months to die after being shot, so in court Gui­teau claimed, "The doc­tors killed Garfield ‒ I just shot him!". He's usu­al­ly described as a "dis­ap­point­ed office seek­er", but I don't think that ful­ly cap­tures his weird­ness. He lit­er­al­ly danced to the gal­lows, and then recit­ed a poem he had writ­ten, titled, I am going to the Lordy. Both he and Booth are char­ac­ters in the musi­cal Assas­sins by Stephen Sond­heim and John Wei­d­man, parts of which are avail­able on YouTube.
Plain Old Murders
Gaius Jenkins, Lawrence, Kansas Territory, 1858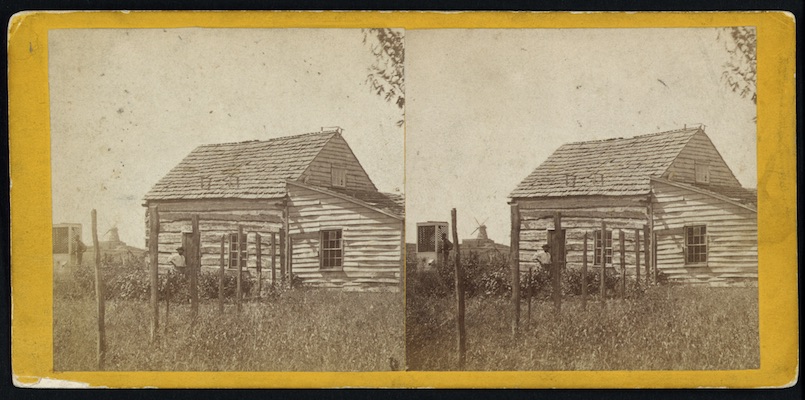 There was a plen­ty of shoot­ing in Kansas Ter­ri­to­ry in 1858 (the pho­to was tak­en some years lat­er), over whether the state-to-be would have legal slav­ery. In this case, though, both men were Free Staters. What they couldn't agree on was the own­er­ship of a cer­tain piece of land in Lawrence, includ­ing the well you see here (the well­house is at the far left).
On June 3, 1858, Gaius Jenk­ins, car­ry­ing a revolver, came to get water from the well which both he and Jim Lane claimed. Lane met him with a shot­gun. A man with Jenk­ins shot Lane in the leg, and Lane shot and killed Jenk­ins. Lane was acquit­ted at tri­al and went on to become one of the two first U.S. Sen­a­tors from Kansas, and over­lap­ping his Sen­ate ser­vice, a Union Civ­il War gen­er­al, trad­ing atroc­i­ties with the Con­fed­er­ates on the Kanas/Missouri bor­der. In 1866 he became depressed and com­mit­ted suicide.
Thomas Brown and Wife, Hampton Falls, New Hampshire, 1868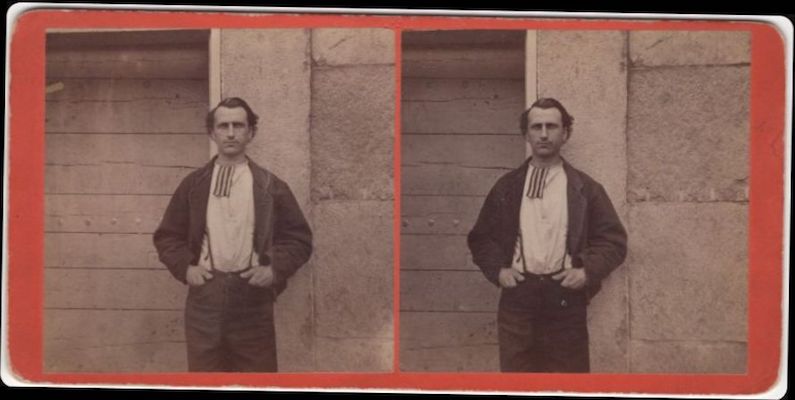 Josi­ah L. Pike mur­dered Thomas Brown and his wife, a cou­ple in their 70's, at Hamp­ton Falls, New Hamp­shire, on May 8, 1868, with an axe. He stole $500 and an over­coat. He doesn't look at all sor­ry in this pho­to. I haven't found Mrs. Brown's name men­tioned any­where, so far. A local church group seems to have been deter­mined to save Pike's soul by show­er­ing him with love, and they held his hand, brought him flow­ers, and had a choir sing to him. Mark Twain, dis­gust­ed by this, wrote a short but very snarky essay called Lion­iz­ing Mur­der­ers.
Jonathan Lunger and Marie Lunger, Ulysses, New York, 1870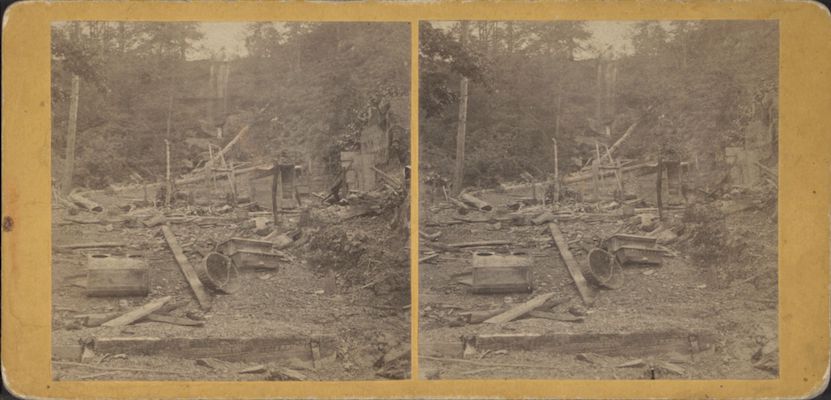 You are look­ing at the remains of a cab­in near Ulysses, New York, which was burned to the ground on March 20, 1870. Two bod­ies, almost com­plete­ly reduced to ash­es, were found inside.
Jonathan Lunger and his daugh­ter had been awak­ened by a sharp noise. Lunger found his arm cov­ered in his wife Marie's blood, and stand­ing over her, hold­ing an axe, was Mike Fer­gu­son, a man who hung around near his cab­in and whom he some­times hired. After a short con­ver­sa­tion, Fer­gu­son stove in Lunger's skull with the axe. Fer­gu­son took Lunger's watch and rifle and their lit­tle mon­ey and burned the cab­in to the ground. He forced 14-year-old Anna to come with him.
Fer­gu­son was caught and Anna was freed and tes­ti­fied at the tri­al. Fer­gu­son was hanged at Itha­ca in 1871. His motive for the crime was nev­er clear.
Georgiana Lovering, Northwood, New Hampshire, 1872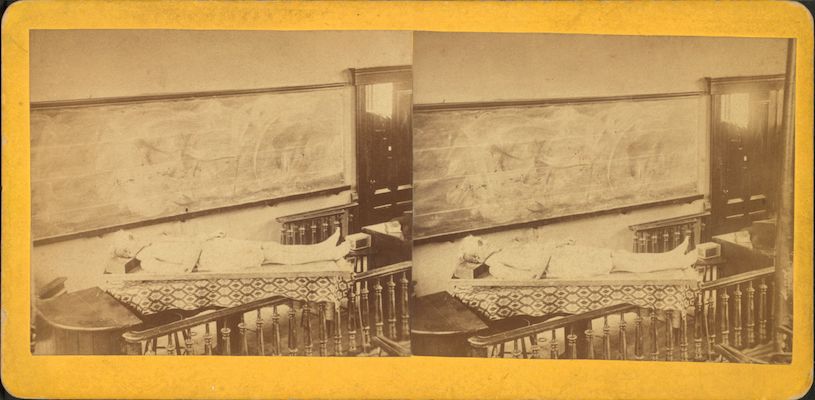 Franklin B. Evans had set some snares for the birds in the woods out­side North­wood, New Hamp­shire. On Sep­tem­ber 25 of 1872, he asked his 14-year-old niece, Geor­giana Lover­ing, to check his snares, claim­ing that he had to work. He hid, then fol­lowed her into the for­est, then raped her, stran­gled her, and exten­sive­ly muti­lat­ed her body with a knife.
Evans came up with a cou­ple of sto­ries about a mys­te­ri­ous stranger who had run off with the girl, but Sher­iff Hen­ry Drew spent a day with Evans dri­ving from town to town to check the sto­ry as it changed. Final­ly, after they had returned to the sheriff's house, Sher­iff Drew locked eyes with Evans and asked him if Georgie were alive or dead. After some sec­onds, Evans broke and admit­ted that she was dead. At mid­night, he led the sher­iff through a swamp to the body. On view­ing the body, the sher­iff demand­ed to know where cer­tain body parts had gone to, and Evans led him to a spot where he had buried them under a rock.
Before his exe­cu­tion on Feb­ru­ary 18, 1874, Evans con­fessed to anoth­er mur­der and muti­la­tion of a child which he had com­mit­ted in 1850. He was sus­pect­ed of com­mit­ting sev­er­al oth­ers, but denied his guilt in those. He request­ed that his body be sold to the Dart­mouth Col­lege med­ical school for dis­sec­tion, with the mon­ey to go to his son. And that is where we see him here.
Karen and Anethe Christensen, Smuttynose Island, Maine, 1873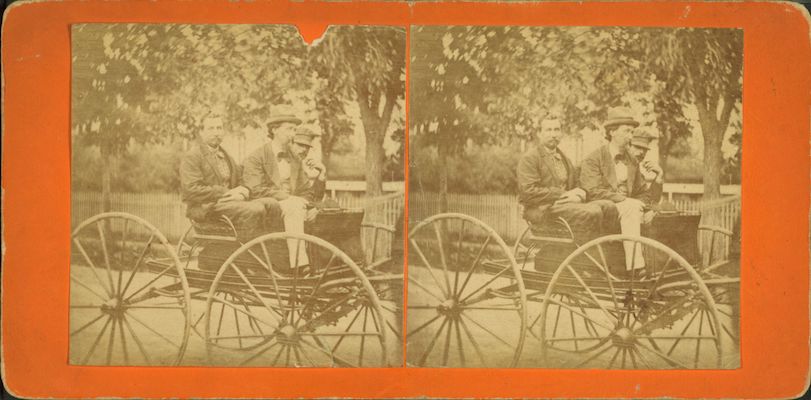 Louis H. F. Wag­n­er is the fel­low on the left. The posi­tion of his hands sug­gests that he's try­ing to hide shack­les. Unfor­tu­nate­ly, this "stereo" view is real­ly two copies of the same pho­to, so it has no depth.
On March 5, 1873, Nor­we­gian immi­grants Maren Hontvet and her sis­ter Karen and sis­ter-in-law Anethe Chris­tensen were asleep in a house on Smut­tynose Island, one of the Isles of Shoals off the coasts of New Hamp­shire and Maine. Wag­n­er had found out that Maren's hus­band John was stay­ing on the main­land that night, and he thought that John had saved up $600 for a new fish­ing boat. He also knew the house well, hav­ing lived there at one time. Break­ing into the house, he blun­dered into Karen, who was sleep­ing in the kitchen. He beat her with a chair, but Maren man­aged to drag her into a bed­room and shut the door. Maren screamed to Anethe, in the next room, to run, and Anethe left by her win­dow, but Wag­n­er grabbed an axe and fol­lowed, and cut her down. When he came back into the house, Maren tried to get Karen to flee with her, but the bad­­ly-beat­­en Karen didn't have the strength. Maren went out the win­dow and ran, hear­ing Karen's last cries behind her. Wag­n­er searched the house and found $16, then made him­self a meal, before row­ing back to the mainland.
Wag­n­er escaped from prison but was caught 3 days after in New Hamp­shire. He was hanged at Thomas­ton, Maine in 1875, more than 2 years after the crime. The mur­ders were the sub­ject of A Mem­o­rable Mur­der, which appears in many true-crime antholo­gies. The recent nov­el and movie, The Weight of Water also involve these murders.
Thomas and Simeon Sturtevant, Halifax, Massachusetts, 1874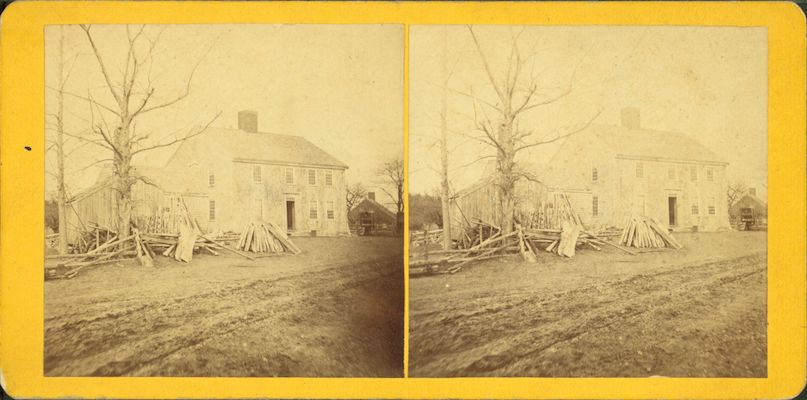 William Sturte­vant was in debt and thought his grand-uncles had mon­ey. On Feb­ru­ary 15, 1874, he grabbed a long wood­en stake and head­ed to this, their house. Grand-Uncle Thomas was on his way to the barn to feed his cows when William blud­geoned him. He then went into the house and blud­geoned his bedrid­den Great Uncle Sime­on. He rifled the house for mon­ey, and on his way out the door he killed the house­keep­er, Mary Buckley.
The inter­est in his exe­cu­tion was so great that tick­ets had to be issued. Inter­est­ing­ly, His­toric New Eng­land says that the pho­tog­ra­ph­er worked for the coun­ty. It would be inter­est­ing to know the coun­ty asked for stereo pho­tos, or whether he took them to sell for his own business.
Russell and John Allison, Putnam County, Tennessee, 1875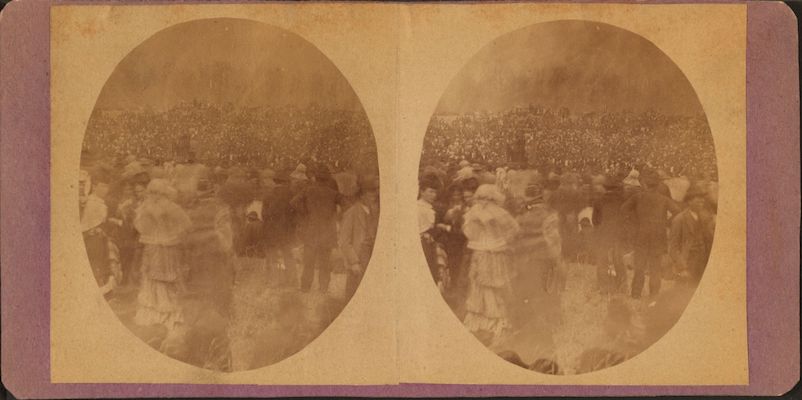 Joseph and George Bras­sel were broth­ers who mur­dered Rus­sell Alli­son in Put­nam Coun­ty, Ten­nessee, on Novem­ber 29, 1875, in the course of an attempt­ed rob­bery. When a posse came to arrest them, they killed John Alli­son in the fight. He was Rus­sell Allison's broth­er. While in jail, they tried to poi­son their guards with arsenic which had been smug­gled in to them. Then they broke their shack­le chains by twist­ing them back and forth for many hours. Lat­er they tried crawl­ing out under the floor­boards, but there wasn't enough space. Near the end, they con­vert­ed to the Methodist church. They dic­tat­ed an account of their lives, which they thought they could sell. It includ­ed a list of their oth­er crimes, some quite vicious.
At their hang­ing, they were allowed to speak to the crowd, and warned them of the evils of alco­hol. A long bal­lad was writ­ten about their crimes and execution.
Afterward
I know there are more true crime stere­os out there, based on list­ings in library and his­­tor­i­­cal-soci­e­ty cat­a­logs. As far as I can tell, though, they don't form a par­tic­u­lar­ly com­mon stereo genre.
For more stereo true crime, see Richard C. Ryder's arti­cle Mur­der, Mad­ness, Muy­bridge, and Gull in Stereo World; those issues are avail­able online (Part 1, Part 2). Ead­weard Muy­bridge was not only a pro­­to-cin­e­­ma pio­neer, but also a great stere­o­g­ra­ph­er, and a mur­der­er. Philip Glass wrote an opera about him, called The Pho­tog­ra­ph­er. Ryder also pro­pos­es a pos­si­ble con­nec­tion to Jack the Ripper.
Martin Schub (Minneapolis, Minnesota, USA)
I'm a retired elec­tri­cal engi­neer and one-time physi­cist, I've been tak­ing stereo pho­tos since the late 1980's and I'm a mem­ber of the Min­neso­ta Stereo Pho­tog­ra­phy Club. I used a Stereo Real­ist for many years, fol­lowed by a home­made fin­ger-sync dig­i­tal rig, fol­lowed by a home­made Stere­o­Da­ta Mak­er rig, and now I use a Fuji W1. I love stereo in all its forms. The feel­ing of look­ing through a win­dow into anoth­er time and/or place nev­er gets old.
written for the stereosite by Pascal Martiné, Germany
Introduction
When I start­ed to take my first own stereo pho­tos I soon real­ized that I can kind of adjust the amount of depth by shift­ing the cam­era more or less between the two shots. Like most of us it took me quite a while to devel­op the right feel­ing and reduce the amount of stereo pairs that were not real­ly sat­is­fy­ing. But cap­tur­ing land­scapes was still a chal­lenge when I first heard of so called hyper stereo pho­tos. After my per­son­al dis­cov­ery of stere­oscopy this opened a whole new world once more. Dur­ing the sum­mer of 2020 I had the long await­ed oppor­tu­ni­ty to take stereo pho­tos with a drone. But to tell you all about the mag­ic of hyper stere­os it's best to start soon after the birth of stereo­scop­ic photography.
While stereo­scop­ic pho­tog­ra­phy always had more tech­ni­cal require­ments, includ­ing the cam­era as well as view­ing devices, the view­ing expe­ri­ence sur­passed that of mono pho­tog­ra­phy. This may not apply on por­traits but does cer­tain­ly on trav­el pho­tog­ra­phy, where you could step right into the scene depict­ed in a stereo view.
But when it comes to wide and dis­tant land­scapes their flat­ness is an unde­ni­able draw­back for the stereo­scop­ic effect when a stereo cam­era with lens­es spaced at the same dis­tance as human eyes is used. Watch­ing the fol­low­ing slides through a Brew­ster stere­o­scope would offer a lit­tle more depth than free view­ing them. Nev­er­the­less, one can see that the lack of 3D is already quite bor­ing com­pared to the two stereo slides shown above.
If you ever took your own stereo pho­tos and referred to the dis­tance of your eyes when shift­ing the cam­era between the two shots you may have encoun­tered that all dis­tant objects appear as one sin­gle flat back­ground. The same effect explains why we can­not esti­mate the dif­fer­ent dis­tances of clouds when we look to the sky.
Stereopsis
To under­stand why this is not pos­si­ble we need to con­sult some the­o­ry. The abil­i­ty of extract­ing depth infor­ma­tion from our binoc­u­lar vision is called Stere­op­sis. One of its con­di­tions is relat­ed to the fact that our eyes have a cer­tain dis­tance to each oth­er. Now, if we look at an object (F) both our eyes will imme­di­ate­ly turn towards the object, lead­ing to a vision of the object right in the cen­ter of both reti­nas, result­ing in one sin­gle vision for both eyes (Fig. 1).
The ver­ti­cal orange line rep­re­sents the dis­tance between us and the object. The hor­i­zon­tal orange line is called base­line in the con­text of stere­oscopy, i.e. the dis­tance between our eyes, or the dis­tance between the two cam­era lenses.
One could assume that every object which is as far away from us as object F would cause such a sin­gle vision. But this is not true. If you would draw two rays from equal points on both reti­nas through the two lens­es you would find out that their inter­sec­tions rather cre­ate a cir­cle. This cir­cle is called Horopter (Fig. 2).
Note that this is only the the­o­ret­i­cal horopter. There also exists an empir­i­cal horopter and a cer­tain neu­ronal tol­er­ance, sum­ma­rized in the so called Panum's fusion­al area. But we will now focus on stere­op­sis again.
If an object O (red) is clos­er than the horopter its vision will have dif­fer­ent posi­tions on each reti­na (Fig. 3). Those dif­fer­ent posi­tions on the reti­nas cause a dou­ble vision which enables our brain to sense the dis­tances of objects. We also use addi­tion­al tech­niques such as com­par­i­son of size, move­ment, etc. to enhance that sense, but we can ignore that for the dis­cus­sion of stereopsis.
Unfor­tu­nate­ly, the dou­ble vision method works only for close objects. Here's why:
Fig. 4 shows what hap­pens if you increase the dis­tance between us or the cam­era and the object we are look­ing at (ver­ti­cal orange line). The base­line and the dis­tance between the horopter and the clos­er object are the same as in the pre­vi­ous fig­ure. It's just like you were step­ping back to take a look from fur­ther away. As you can see, the left vision of the red object moves clos­er to the vision of point 3. Ulti­mate­ly, this is what happens:
The for­mer dou­ble vision of the red object trans­forms into a sin­gle vision. This means stere­op­sis is not pos­si­ble any­more and we are thus not able to sense the dif­fer­ent dis­tances of the two objects — we are just too far away now.
This prob­lem affects stereo­scop­ic pho­tog­ra­phy even more. If you want to take a pho­to of some­thing that is just too large to fit entire­ly on your lens — like a build­ing, a moun­tain, a land­scape or a city panora­ma — the only way is to get far­ther away from the sub­ject and loose the stereo effect. Fur­ther­more, we some­times wish to get clos­er to par­tic­u­lar object but we can't — like a ship on the sea, an ani­mal or the clouds men­tioned above.
Wait! Didn't we con­clude that it's just impos­si­ble to sense depth in dis­tant clouds? Yes, that's true on one hand, but obvi­ous­ly clouds are also as three dimen­sion­al as a moun­tain. Luck­i­ly, we are not only able to bring back the depth, we are also able to make it vis­i­ble in a way that we have nev­er seen it before. That's why the title of this arti­cle speaks of magic.
While magi­cians work with illu­sions or dis­trac­tions we will actu­al­ly not do any­thing more than reveal­ing real­i­ty. That means mak­ing stere­op­sis pos­si­ble for dis­tant objects. In the­o­ry it's quite sim­ple to bring the dou­ble vision back. All you have to do is increase the base­line (Fig. 6).
If you want to exam­ine the effects between dis­tance and base­line on your own you can access this fig­ure as an inter­ac­tive GeoGe­bra file online here.
The effect might seem poor in the exam­ple above because the dou­ble vision on the last fig­ure is far less than on the first. But as I said you will use that tech­nique for large build­ings rather than for a still life on a table. So, if you increase the dis­tance to your sub­jects, their inner dis­tances will grow like­wise (while the dis­tance between the red object and the horopter remained the same through all figures).
Historical hyper stereos
It's time to leave the­o­ry behind to prove that the tech­nique works. And how it works! When I looked through my col­lec­tion of glass slides I can eas­i­ly con­clude that hyper stereo­scop­ic pho­tog­ra­phy is no new dis­cov­ery, but was used for the same pur­pose as today as it was in the 19th century:
Typical settings
There are a few require­ments to take sat­is­fy­ing hyper stere­os such as an emp­ty fore­ground, equal ground, and space to move side­ways. This results in typ­i­cal sit­u­a­tions suit­able to take hyper stereos:
Walk along the riverside
Walk over bridges
Look down from large buildings
Take photos while you're in a moving vehicle, …
… a plane or watching a movie.
Don't move at all, but let the scenery move.
In my expe­ri­ence, it does not mat­ter if your base­line is a lit­tle too big — at least in most cas­es I don't have time to cal­cu­late, or I just don't know the dis­tance between the cam­era and the sub­ject. That's why I always shoot a hor­i­zon­tal sequence of 4 to 7 pho­tos, and choose the final stereo pair after­wards. If I take simul­ta­ne­ous stereo pho­tos I leave one cam­era where it is and increase the dis­tance to the oth­er cam­era mul­ti­ple times. That way I can choose the best pair after­wards as well. For more infor­ma­tion about how to choose the base­line I rec­om­mend David Kuntz's arti­cle Get­ting the Right Depth in 3D Pho­tog­ra­phy.
Hyper stereos taken by a drone
A few years ago, a great pos­si­bil­i­ty for stereo­scop­ic pic­tures went rather unno­ticed when drones became avail­able for every­one at a mod­er­ate price lev­el. Here are a few exam­ples that I took togeth­er with Ihab Zaidan who flew the drone:
Castle Waldthausen, Mainz, Germany
Russian Orthodox Church, Wiesbaden, Germany
Fly­ing high obvi­ous­ly enables you to have an emp­ty fore­ground wher­ev­er you are, and lets you choose the per­fect per­spec­tive. But one of the most impor­tant ben­e­fits is that the remote con­trol allows you to move exact­ly side­ways — no slope of a road, no acci­den­tal cir­cu­lar movement.
Of course, there are also draw­backs and lim­i­ta­tions such as strong wind, flight restrict­ed areas, and the bat­tery of the drone. The con­di­tions of sequen­tial stereo pho­tos also affect drone stere­os – but since you are quite far away and can move rather quick­ly this is not a big prob­lem. I would say it has nev­er been eas­i­er to take sat­is­fy­ing hyper stere­os than with a drone.
A series of more drone stereo pho­tos can be found in the cor­re­spond­ing gallery Cas­tles along the Rhine.