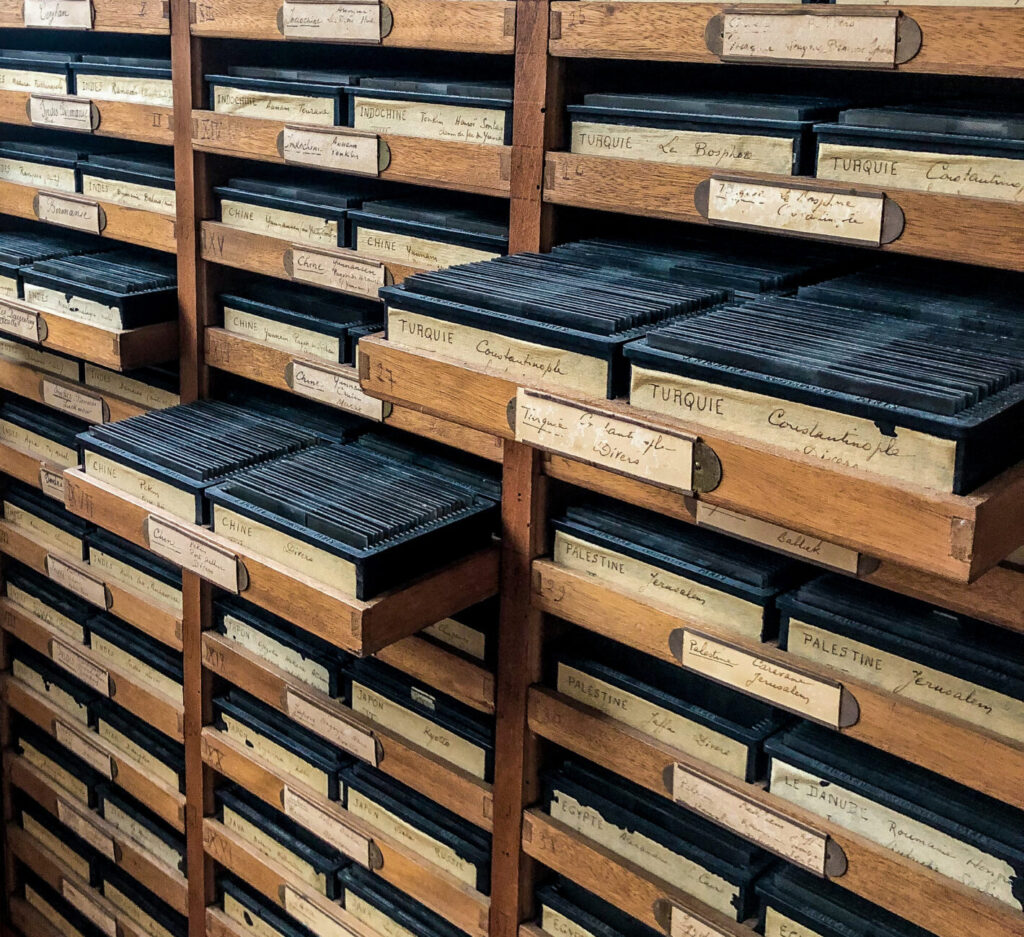 Antique stere­oviews are your tick­et to time trav­el, and can tell great sto­ries from the past! Look­ing at a vin­tage card through your stere­o­scope, you can step right into the scene and imag­ine how things must have been for peo­ple in a par­tic­u­lar era. The pop­u­lar­i­ty of this medi­um in the 19th and ear­ly 20th cen­tu­ry now allows us to view his­to­ry via this immer­sive medi­um. This sec­tion is devot­ed to the mag­ic of antique stereo-pho­tographs. Learn all about the do's and don'ts of col­lect­ing antique stere­oviews, and build­ing a well curat­ed col­lec­tion of your own here. We will also peri­od­i­cal­ly share stere­oviews that are part of pri­vate collections.
---
Latest articles
---
written for the stereosite by Katya Neklyudova, Canada
What kind of enter­tain­ment would you have as a Sovi­et kid grow­ing up in the 1980s? A cou­ple of dolls, clothes, and rags for the dolls' dress­es; metal­lic con­struc­tor sets, the vinyl record­ings of children's sto­ries; some cas­settes with pop­u­lar Russ­ian songs, and a bunch of film­strips (a 35 mm film with still images and cap­tions to be pro­ject­ed on a wall – no move­ment or sound!). These things were in almost everyone's pos­ses­sion – at least, that's how I remem­ber my friend's toys. How­ev­er, I had some­thing very spe­cial – a set of stereo cards, along with a sim­ple stere­o­scope that looked like binoculars.
Of course, back then I knew noth­ing about stere­oscopy, as well as the sto­ry behind those slides, oth­er than the fact that they were pro­duced in East Ger­many. Each card fea­tured six stereo pairs, and to view them, you had to slide it into a view­er, and go from bot­tom to top – from the begin­ning to the end of a par­tic­u­lar sto­ry. In my ear­ly years I had only two cards. How­ev­er lat­er my lit­tle col­lec­tion grew, and even­tu­al­ly I end­ed up hav­ing 14 sets of stereo slide cards. Many of them were Broth­ers Grimm tales (Snow White, Rumpel­stilt­skin, Hansel and Gre­tel, Lit­tle Red Rid­ing Hood, etc.); I also had a series fea­tur­ing Ted­dy Bears and their adven­tures – how they go to school, hike, exer­cise, climb moun­tains, or even go to space! Out of the whole col­lec­tion, I loved the Ted­dies slides most of all, and in a way, they influ­enced my own tastes and likes. Space Ted­dies made me fall in love with the sci-fi sto­ries; the card show­ing them climb­ing moun­tains made me dream about the dis­tant places I have nev­er seen. And in gen­er­al, these cards broad­ened my imag­i­na­tion. We all know that many chi­dren cre­at­ed their own imag­i­nary worlds. Thanks to these stereo images, mine were almost tangible.
For many years, these cards remained my only expo­sure to stere­oscopy. I had no idea that it exist­ed beyond this for­mat. Of course, after I start­ed tak­ing my own stere­os, I real­ized that these slides were pop­u­lar around the world, as a part of more glob­al process. I learned that peo­ple from out­side of the Sovi­et Union (and the East­ern Bloc coun­tries) are rarely aware of these East Ger­man stereo slides.
In the rest of the world every­one knows the View-Mas­ter Reels. After doing some research on my cards, I found out that my stereo view­er, named Stere­o­mat, was pro­duced in Kamenz (East Ger­many) in the 1970s. Orga­nized into the­mat­ic series, each of the cards had a code mark­ing a cer­tain sub­ject (for exam­ple, TS 'Ted­die Serie' for Ted­dy Bears stere­os, ZS 'Zoo Serie' for the stereo pho­tos of ani­mals, MS 'Märchen Serie' for the fairy tales, etc.).
Accord­ing to one of Russ­ian col­lec­tors (https://cccp.livejournal.com/24777.html), TS and MS series cir­cu­lat­ed wide­ly in the Sovi­et Union, while oth­ers were less well-known. My col­lec­tion con­sist­ed almost entire­ly of these series, with the excep­tion of one ZS card. This was actu­al­ly one of the first cards I had ever had, with the stereo images of ani­mals from the Berlin Zoo. You can see that these slides were viewed (and han­dled) by a lit­tle kid, and there­fore, their qual­i­ty is not the best.
Anoth­er card from my ini­tial set fea­tured a sto­ry of a naughty mouse, who, after steal­ing a piece of ham, is chased, and even­tu­al­ly cap­tured by his bud­dy. This exam­ple demon­strates how elab­o­rate these stere­os were! Now, as a stereo enthu­si­ast, I can see how well the sense of depth was used, and how inter­est­ing and orig­i­nal the set­tings of this sto­ry were.
Inter­est­ing­ly, when I got more stereo slides as a gift sev­er­al years lat­er, I found anoth­er card that evi­dent­ly told the same sto­ry, only this time, the lit­tle thief man­ages to escape. How­ev­er, his greed­i­ness is pun­ished by an upset stom­ach, and the sto­ry cul­mi­nates in more didac­tic ending.
The Broth­ers Grimm tales were extreme­ly pop­u­lar among Russ­ian kids, and there­fore, imme­di­ate­ly rec­og­niz­able. No won­der that this series was exten­sive­ly rep­re­sent­ed in my per­son­al col­lec­tion! I would like to share a cou­ple of stereo pairs from Rumpel­stilt­skin, the sto­ry of a miller's daugh­ter that became a queen, a vicious gnome whose name nobody can guess, and an evil deal.
I also have a card that does not real­ly match any of the cat­e­gories. It is about a day in the life of a dri­ving school's stu­dents and instruc­tors, start­ing from the moment that they come to the class, to the moment when they pass their tests. My guess is that, since this card is from the MS series, it is prob­a­bly based on a children's sto­ry or an ani­ma­tion film. Unfor­tu­nate­ly, I could not find the source of these slides.
Final­ly, here are my most favorite cards, fea­tur­ing the adven­tures of Ted­dy Bears (the TS series). Again, I do not know if this series was writ­ten and staged specif­i­cal­ly for the stereo slides, or the cre­ators based it on some exist­ing sto­ries. I think that these are breath­tak­ing exam­ples of how mas­ter­ful the Stere­o­mat team was. From the care­ful­ly designed set­tings to the use of depth, from the cute and lov­able ted­dies to the amaz­ing light­ing. Back then, when I was a kid, I firm­ly believed that these beau­ti­ful scenes indeed exist­ed some­where across the sea, and my dream was to climb these moun­tains, and maybe even go into space one day.
written for the stereosite by Rebecca Kilbreath, USA
It's prob­a­bly safe to assume that most peo­ple were intro­duced to 3D images via View-Mas­ter. Intro­duced at the 1939 New York World's Fair, the hand­held 3D view­er was a very pop­u­lar for­mat that sold lit­er­al­ly bil­lions of prod­ucts from the 1940s right on through the 2000s. Here you'll find a brief his­to­ry of View-Mas­ter, some images from my col­lec­tion and key con­tent cat­e­gories that may be of inter­est to those look­ing to start or grow their collections.
View-Mas­ter was invent­ed by William Gru­ber in the 1930s, work­ing with Sawyer's Inc of Port­land, Ore­gon. Sawyers was then called Sawyer's Pho­to Fin­ish­ing Ser­vice and was one of the world's largest pro­duc­ers of scenic postcards.
The View-Mas­ter was intro­duced at the 1939 New York World's Fair, just a cou­ple of years after the inven­tion of Kodachrome film. View-Mas­ter used Kodachrome exclu­sive­ly until the late 1970s, and because of this, the vast major­i­ty of View-mas­ter trans­paren­cies retain their col­or and vibran­cy over time.
View-Mas­ter was orig­i­nal­ly mar­ket­ed as an excit­ing alter­na­tive to scenic post­cards. The reels were most often sold at pho­tog­ra­phy stores, gift shops at scenic attrac­tions, and via mail order. When I first start­ed col­lect­ing, that era was my pri­ma­ry focus. It gave me the oppor­tu­ni­ty to view these lit­tle time cap­sules, to take a quick vaca­tion to the past.
As my col­lec­tion grew, so, too did the geo­graph­ic span of images. View-Mas­ter was tru­ly try­ing to cap­ture pho­tos from every cor­ner of the globe they could get to. There are many reels of far-flung fes­ti­vals and lots of arti­sans and peo­ple at work, includ­ing a man carv­ing ivory in Hong Kong, a woman mak­ing fil­i­gree sil­ver jew­el­ry in Yucatan, Mex­i­co, a man carv­ing a boat in Pana­ma. There are pho­tos from life on every con­ti­nent and most major cities, even Rus­sia dur­ing the cold war.
There are also many U.S. com­mu­ni­ties of peo­ple rep­re­sent­ed includ­ing Native Amer­i­cans, Cre­ole and Gul­lah. Glob­al­ly, there are groups of peo­ple and even entire places that no longer exist. There's an entire pack­et ded­i­cat­ed to Zuiderzee, a fish­ing vil­lage in The Nether­lands that exist­ed before they built the dams that put the city under water.
I've learned a lot about the world and the past through View-Mas­ter. And that's by design.
William Gru­ber and the folks at Sawyer's tru­ly believed in this prod­uct as an edu­ca­tion­al tool. There are many exam­ples of edu­ca­tion­al reels over the years. Notably, in the 1940s, the U.S. mil­i­tary pur­chased around 100k view­ers and sev­er­al mil­lion reels. From range esti­ma­tors to in-air iden­ti­fi­ca­tion, these tools were used in train­ing. Oth­er edu­ca­tion­al reels pro­duced includ­ed mush­room iden­ti­fi­ca­tion, flower iden­ti­fi­ca­tion, a sweep­ing his­to­ry of Chi­nese art and med­ical reels ded­i­cat­ed to body dissection.
The edu­ca­tion­al reels over­lap with anoth­er key com­po­nent of Saywer's View-Mas­ter busi­ness that was there from the begin­ning: the pro­duc­tion of com­mis­sioned com­mer­cial reels. Com­mer­cial reels sold just about any­thing you could name, from bour­bon to tooth­paste to farm ani­mals. Movie pre­view reels are some of the most sought-after by col­lec­tors. They were used exclu­sive­ly in movie the­aters as a way to pro­mote upcom­ing movies dur­ing the 3D movie craze of the 1950s.
Also in the 1950s, Sawyer's pur­chased Tru-Vue, the company's main com­peti­tor. While this wiped out the com­pe­ti­tion, it also cap­tured the licens­ing rights to Walt Dis­ney Stu­dios. Four years lat­er, Dis­ney­land would open, and the rest is his­to­ry. It was a wild­ly suc­cess­ful part­ner­ship for both brands that spanned many decades. There in many who just col­lect View-Master's Dis­ney items and that's prob­a­bly enough to keep a per­son busy for years.
Anoth­er area for col­lec­tors and a big thing for Sawyer's in the 1950s, involved their end-to-end ser­vice for per­son­al reels. They sold a View-Mas­ter per­son­al stereo cam­era, film cut­ter and mount­ing sup­plies. The even sold a 3D pro­jec­tor called the Stereo-Mat­ic 500 that required a sil­ver screen and polar­ized glass­es. A bud­ding pho­tog­ra­ph­er could do every­thing them­selves from start to fin­ish, but if you didn't want to make your own reels, the fine folks at Sawyer's would do it for you via their mail-in service.
The Toy Shelf
Most peo­ple asso­ciate View-Mas­ter with car­toons and pop cul­ture. And that's part­ly because, in the 1960s, GAF Cor­po­ra­tion pur­chased View-Mas­ter. They leaned heav­i­ly into pop cul­ture and kids reels. And, while they saw suc­cess, by the late 1970s, cost cut­ting mea­sures led to GAF switch­ing to less­er film stocks and qual­i­ty over­all dropped. View-Mas­ter changed hands a cou­ple more times but by the late 1990s was owned by Mat­tel and nes­tled under the Fish­er-Price brand, plac­ing it firm­ly in the preschool­er toy aisle.
While that out­come is a bum­mer for those who don't care about car­toons and oth­er kids pro­gram­ming, one neat thing about VM is that it's from lit­er­al­ly everyone's child­hood. Any view­er can show you any reel, from 1939 on. So, every­body — from grand­ma to a mod­ern preschool­er — enjoyed the same tac­tile experience.
There's some­thing pro­found in these shared child­hood touchpoints.
Many col­lec­tors start out by acquir­ing things they had and loved in child­hood. If you were a kid in the 1960s, you might want the Mon­kees set; in the 1970s, Eight is Enough; in the 1980s, Knight Rid­er. If you love sci-fi, there's every­thing from a visu­al­ly stun­ning Twen­ty Thou­sand Leagues Under the Sea dio­ra­ma set to scenes from the set of Dune in 1984. Numer­ous space-race and NASA-themed reels exist. And many major pop cul­ture fran­chis­es are rep­re­sent­ed includ­ing Mar­vel, Indi­ana Jones, Juras­sic Park and Har­ry Potter.
In terms of reels direct­ed at chil­dren, it seems the dio­ra­ma reels in par­tic­u­lar hold a spe­cial place in the hearts of col­lec­tors. The scenes cre­at­ed by Flo­rence Thomas, Joe Lip­tak and oth­er sculp­tors who worked at View-Mas­ter has had a last­ing impact. I know this because I start­ed an Insta­gram account in the fall of 2020 to share images from my View-Mas­ter col­lec­tion, and I was hap­pi­ly sur­prised to find so many peo­ple who love View-Mas­ter. Many of my fol­low­ers are them­selves artists — car­toon­ists, illus­tra­tors, pup­peteers and painters — who have told me that View-Mas­ter serves as inspi­ra­tion in their own work today. It's not hard to under­stand why.
The sculp­tors did incred­i­ble work, and the dio­ra­ma reels are well worth seek­ing out. And those of you with an inter­est in stereo­scop­ic pho­tog­ra­phy should def­i­nite­ly check them out. The table­top 3D pho­tog­ra­phy pro­duced for these reels is unparalleled.
Semiotics — Who's Here and Who's Not
Of course, it would be ridicu­lous to not men­tion that the past is a decid­ed­ly prob­lem­at­ic place.
With a degree in film stud­ies, I can't help but think about the mean­ings and sym­bols found in com­pelling images from the past. What did the images say to peo­ple at the time? Who did they include? And, some­times, more impor­tant­ly, who did they leave out?
Era­sure is prob­a­bly the neat­est trick VM ever pulled — it's some­thing that the dom­i­nant cul­tur­al nar­ra­tive excels at. Black adult Amer­i­cans are often absent from reels though smil­ing chil­dren are rep­re­sent­ed semi-reg­u­lar­­ly. The state tour pack­ets often include a few sur­pris­es and reg­u­lar peo­ple of all races and class­es work­ing reg­u­lar jobs. Many of the reels pro­duced by the View-Mas­ter fac­to­ry in Bel­gium include incred­i­ble glimpses into places it would be dif­fi­cult to see oth­er­wise, from cheese being made at an abbey in the 1940s in Switzer­land to how tea was made in India in the 1950s. The edu­ca­tion­al com­po­nents and the desire to share images from every cor­ner of the globe was sin­cere at Sawyer's, and I find the far­ther from home I get in View-Mas­ter reels, the more I learn.
And, for me, that's one of the key ele­ments of col­lect­ing: The thrill of dis­cov­ery. While I love to see places and peo­ple I would oth­er­wise nev­er see, there's a spe­cial place in my heart for the weird­er stuff.
I enjoy images of tourists traps, of fes­ti­vals and kitschy events — like drunk­en rev­el­ers at Mar­di Gras or Rio's Car­ni­val in the 1940s.
A few more weird things I've found and loved: There are two entire com­mer­cial reels ded­i­cat­ed to Here­ford Ranch's Heifer sale of 1953. Each cow looks alike unless you know some­thing about buy­ing livestock.
The Paris pack­et is fan­tas­tic and includes this image with the cap­tion "tramps live under the bridges of Paris." I just don't think they ever would have includ­ed such an image in a reel about the Unit­ed States.
A bizarre FBI pack­et fea­tures a made-up kid­nap­ping plot but takes place at the real FBI head­quar­ters and feautres a 3D pho­to of J. Edgar Hoover.
And even though kids reels are some­what out­side my wheel­house, there are many fun ones to be found. I just recent­ly dis­cov­ered these creepy-hilar­i­ous Hug­ga Bunch reels from 1985.
This is just the tip of the ice­berg when it comes to View-Mas­ter con­tent cat­e­gories. One of the best things about View-Mas­ter is that it cov­ered so many sub­jects that, as my per­son­al inter­ests have evolved, so, too, has my collection.
written for the stereosite by Martin Schub, USA
At a recent meet­ing of the VSC, some­one asked if there are stereo views of true crime. I'm not a big true crime fan or a stereo schol­ar, but this seemed like a fun pan­dem­ic online research project. What is meant by true crime? It's a non­fic­tion genre hav­ing to do with actu­al crimes, usu­al­ly mur­der. It's pop­u­lar now, but it was pop­u­lar in the 19th cen­tu­ry too‒just think of the pen­ny press and the Nation­al Police Gazette. As the joke says, "Crime may not pay, but it sells!". I was curi­ous to see if it made its way into stereo cards, too.
Almost all the mate­r­i­al I found was for Amer­i­cans. The images you'll see come only from online sources, most­ly the Library of Con­gress and the New York Pub­lic Library. I had nev­er heard of any of these mur­der­ers, but amaz­ing­ly, two of them have their own Wikipedia arti­cles and I was eas­i­ly able to find some mate­r­i­al on the rest also. Con­verse­ly, I was unable to find mate­r­i­al con­nect­ed to some mur­der­ers who are still house­hold names in the U.S., like Lizzie Bor­den or Alferd G. Packer.
In what fol­lows, I've tried to pro­vide a thumb­nail sketch of each crime. Accounts from the time often vary, so I've tried to present a com­pos­ite set of the facts which I think are the most likely.
Please note: Most of these stere­os are G‑rated, but there are a few which may be dis­turb­ing to some peo­ple. Specif­i­cal­ly, there are two hang­ings (both shown before the trap­door opened) and one dead body. Also some of the descrip­tions of the crimes may be dis­turb­ing. These are images of mur­der and cap­i­tal pun­ish­ment, and they're not pretty.
Assassinations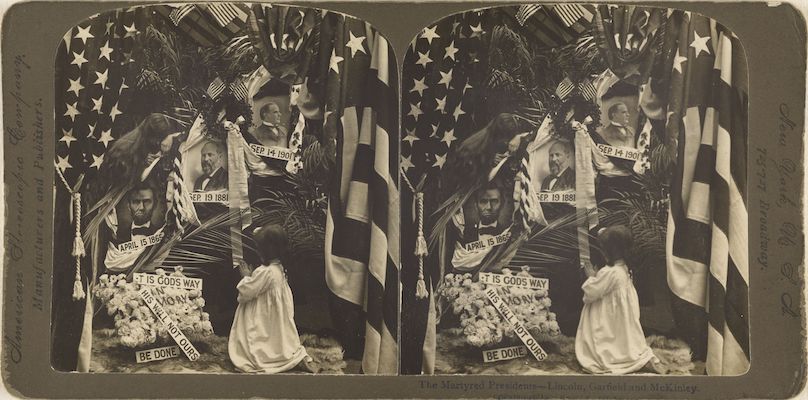 The first thing that comes to mind for true crime in stereo was Ead­weard Muy­bridge, but more about him lat­er. The sec­ond thing was the assas­si­na­tions of three US pres­i­dents: Abra­ham Lin­coln in 1865, James Garfield in 1881, and William McKin­ley in 1901. This stereo memo­ri­al­izes all 3, in true maudlin turn-of-the-cen­­tu­ry style, but with great stereo­scop­ic depth!
Lincoln Assassination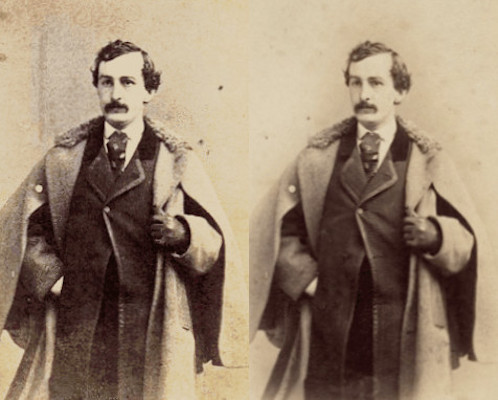 This is the only stereo I could find of John Wilkes Booth, who shot Lin­coln. It's an acci­den­tal stereo, assem­bled by John J. Richter from two carte-de-vis­ite images where Booth moved a lit­tle between expo­sures. As a result, the depth is a bit exaggerated.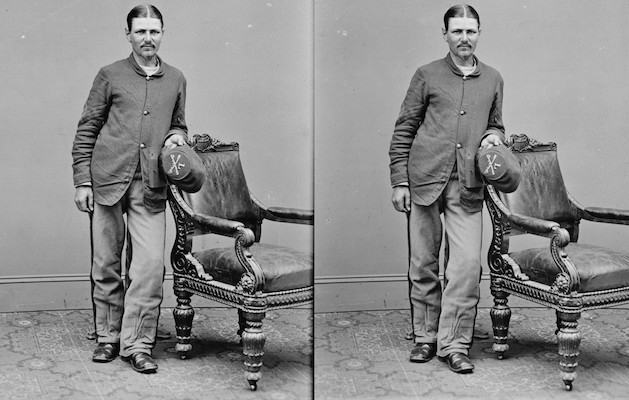 On April 26, 1865, Boston Corbett's reg­i­ment had sur­round­ed Booth and one of his accom­plices in a tobac­co shed in Vir­ginia. They were under orders to take Booth alive, but some­body shot him any­way. There are doubts about whether it was Cor­bett, but he took the cred­it (or blame). He was to have been court-mar­shalled, but the Sec­re­tary of War intervened.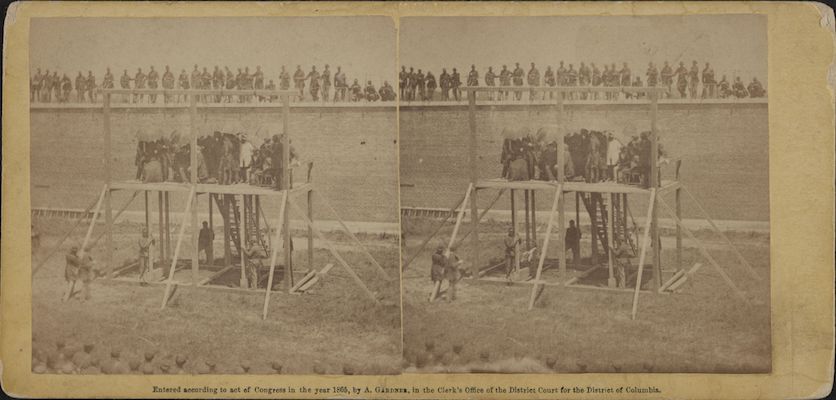 The assas­si­na­tion of Lin­coln was part of a broad­er con­spir­a­cy. Booth isn't in this pho­to, hav­ing already been killed. The hanged were: David Herold, who helped Booth escape, Lewis Pow­ell, who tried to kill Sec­re­tary of War Seward, George Azterodt, who was sup­posed to kill Vice Pres­i­dent Andrew John­son but lost his nerve, and Mary Sur­ratt, who owned the board­ing house where the con­spir­a­tors met, and who was the first woman to be exe­cut­ed by the U.S. government.
Garfield Assassination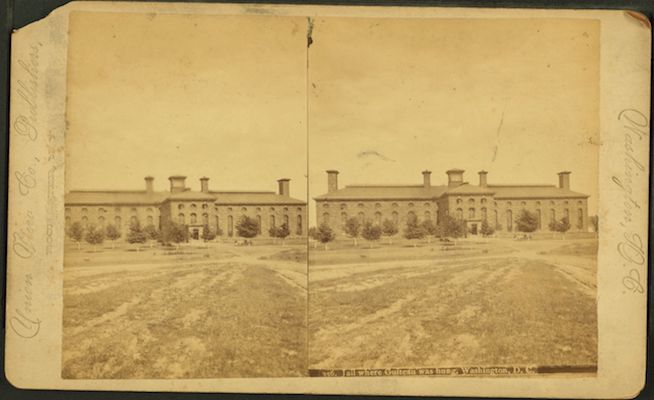 This is the old DC jail where Charles Gui­teau, who shot Pres­i­dent James Garfield, was held and even­tu­al­ly hanged. While he was held here, two attempts were made to shoot Gui­teau, includ­ing one by one of his guards. Peo­ple took up a col­lec­tion for the guard‒that's how pop­u­lar Gui­teau was.
It took Garfield almost 3 months to die after being shot, so in court Gui­teau claimed, "The doc­tors killed Garfield ‒ I just shot him!". He's usu­al­ly described as a "dis­ap­point­ed office seek­er", but I don't think that ful­ly cap­tures his weird­ness. He lit­er­al­ly danced to the gal­lows, and then recit­ed a poem he had writ­ten, titled, I am going to the Lordy. Both he and Booth are char­ac­ters in the musi­cal Assas­sins by Stephen Sond­heim and John Wei­d­man, parts of which are avail­able on YouTube.
Plain Old Murders
Gaius Jenkins, Lawrence, Kansas Territory, 1858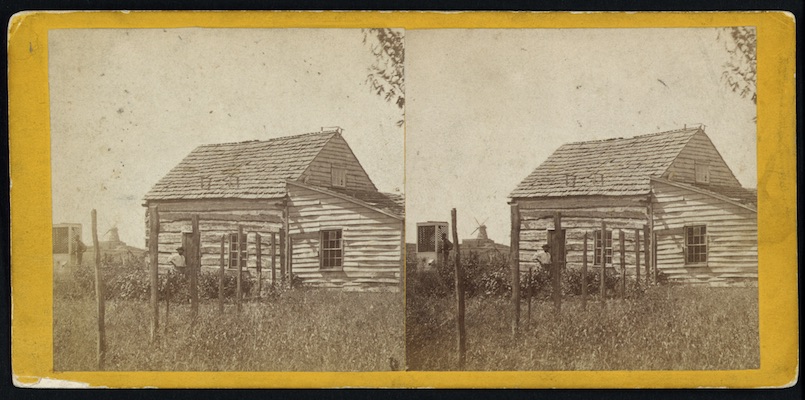 There was a plen­ty of shoot­ing in Kansas Ter­ri­to­ry in 1858 (the pho­to was tak­en some years lat­er), over whether the state-to-be would have legal slav­ery. In this case, though, both men were Free Staters. What they couldn't agree on was the own­er­ship of a cer­tain piece of land in Lawrence, includ­ing the well you see here (the well­house is at the far left).
On June 3, 1858, Gaius Jenk­ins, car­ry­ing a revolver, came to get water from the well which both he and Jim Lane claimed. Lane met him with a shot­gun. A man with Jenk­ins shot Lane in the leg, and Lane shot and killed Jenk­ins. Lane was acquit­ted at tri­al and went on to become one of the two first U.S. Sen­a­tors from Kansas, and over­lap­ping his Sen­ate ser­vice, a Union Civ­il War gen­er­al, trad­ing atroc­i­ties with the Con­fed­er­ates on the Kanas/Missouri bor­der. In 1866 he became depressed and com­mit­ted suicide.
Thomas Brown and Wife, Hampton Falls, New Hampshire, 1868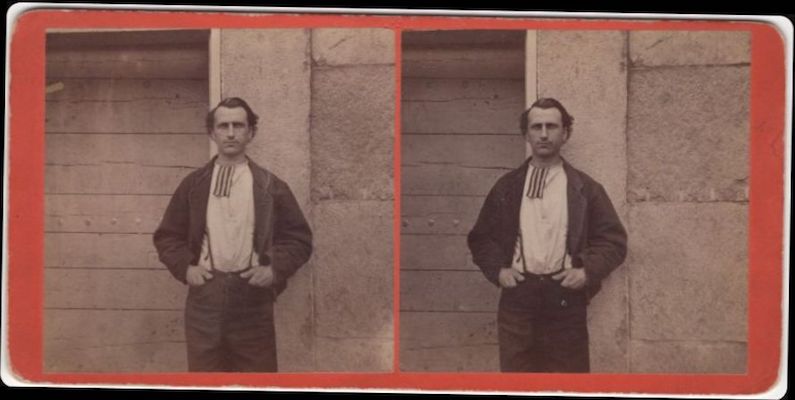 Josi­ah L. Pike mur­dered Thomas Brown and his wife, a cou­ple in their 70's, at Hamp­ton Falls, New Hamp­shire, on May 8, 1868, with an axe. He stole $500 and an over­coat. He doesn't look at all sor­ry in this pho­to. I haven't found Mrs. Brown's name men­tioned any­where, so far. A local church group seems to have been deter­mined to save Pike's soul by show­er­ing him with love, and they held his hand, brought him flow­ers, and had a choir sing to him. Mark Twain, dis­gust­ed by this, wrote a short but very snarky essay called Lion­iz­ing Mur­der­ers.
Jonathan Lunger and Marie Lunger, Ulysses, New York, 1870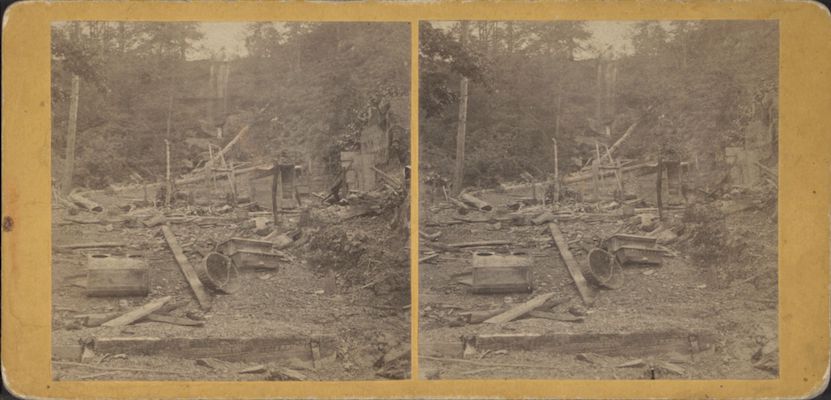 You are look­ing at the remains of a cab­in near Ulysses, New York, which was burned to the ground on March 20, 1870. Two bod­ies, almost com­plete­ly reduced to ash­es, were found inside.
Jonathan Lunger and his daugh­ter had been awak­ened by a sharp noise. Lunger found his arm cov­ered in his wife Marie's blood, and stand­ing over her, hold­ing an axe, was Mike Fer­gu­son, a man who hung around near his cab­in and whom he some­times hired. After a short con­ver­sa­tion, Fer­gu­son stove in Lunger's skull with the axe. Fer­gu­son took Lunger's watch and rifle and their lit­tle mon­ey and burned the cab­in to the ground. He forced 14-year-old Anna to come with him.
Fer­gu­son was caught and Anna was freed and tes­ti­fied at the tri­al. Fer­gu­son was hanged at Itha­ca in 1871. His motive for the crime was nev­er clear.
Georgiana Lovering, Northwood, New Hampshire, 1872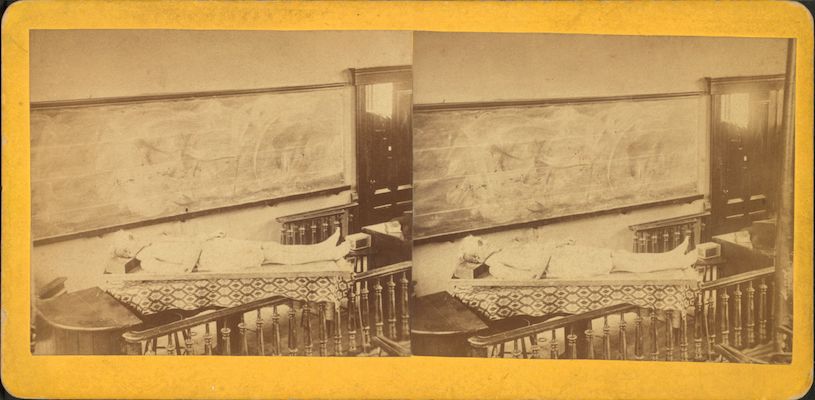 Franklin B. Evans had set some snares for the birds in the woods out­side North­wood, New Hamp­shire. On Sep­tem­ber 25 of 1872, he asked his 14-year-old niece, Geor­giana Lover­ing, to check his snares, claim­ing that he had to work. He hid, then fol­lowed her into the for­est, then raped her, stran­gled her, and exten­sive­ly muti­lat­ed her body with a knife.
Evans came up with a cou­ple of sto­ries about a mys­te­ri­ous stranger who had run off with the girl, but Sher­iff Hen­ry Drew spent a day with Evans dri­ving from town to town to check the sto­ry as it changed. Final­ly, after they had returned to the sheriff's house, Sher­iff Drew locked eyes with Evans and asked him if Georgie were alive or dead. After some sec­onds, Evans broke and admit­ted that she was dead. At mid­night, he led the sher­iff through a swamp to the body. On view­ing the body, the sher­iff demand­ed to know where cer­tain body parts had gone to, and Evans led him to a spot where he had buried them under a rock.
Before his exe­cu­tion on Feb­ru­ary 18, 1874, Evans con­fessed to anoth­er mur­der and muti­la­tion of a child which he had com­mit­ted in 1850. He was sus­pect­ed of com­mit­ting sev­er­al oth­ers, but denied his guilt in those. He request­ed that his body be sold to the Dart­mouth Col­lege med­ical school for dis­sec­tion, with the mon­ey to go to his son. And that is where we see him here.
Karen and Anethe Christensen, Smuttynose Island, Maine, 1873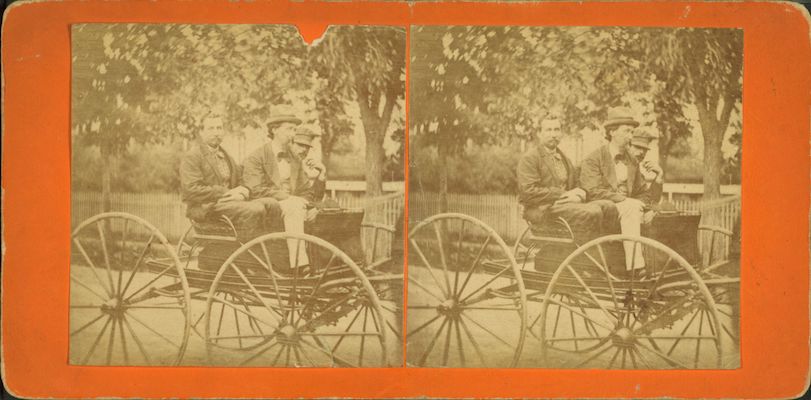 Louis H. F. Wag­n­er is the fel­low on the left. The posi­tion of his hands sug­gests that he's try­ing to hide shack­les. Unfor­tu­nate­ly, this "stereo" view is real­ly two copies of the same pho­to, so it has no depth.
On March 5, 1873, Nor­we­gian immi­grants Maren Hontvet and her sis­ter Karen and sis­ter-in-law Anethe Chris­tensen were asleep in a house on Smut­tynose Island, one of the Isles of Shoals off the coasts of New Hamp­shire and Maine. Wag­n­er had found out that Maren's hus­band John was stay­ing on the main­land that night, and he thought that John had saved up $600 for a new fish­ing boat. He also knew the house well, hav­ing lived there at one time. Break­ing into the house, he blun­dered into Karen, who was sleep­ing in the kitchen. He beat her with a chair, but Maren man­aged to drag her into a bed­room and shut the door. Maren screamed to Anethe, in the next room, to run, and Anethe left by her win­dow, but Wag­n­er grabbed an axe and fol­lowed, and cut her down. When he came back into the house, Maren tried to get Karen to flee with her, but the bad­­ly-beat­­en Karen didn't have the strength. Maren went out the win­dow and ran, hear­ing Karen's last cries behind her. Wag­n­er searched the house and found $16, then made him­self a meal, before row­ing back to the mainland.
Wag­n­er escaped from prison but was caught 3 days after in New Hamp­shire. He was hanged at Thomas­ton, Maine in 1875, more than 2 years after the crime. The mur­ders were the sub­ject of A Mem­o­rable Mur­der, which appears in many true-crime antholo­gies. The recent nov­el and movie, The Weight of Water also involve these murders.
Thomas and Simeon Sturtevant, Halifax, Massachusetts, 1874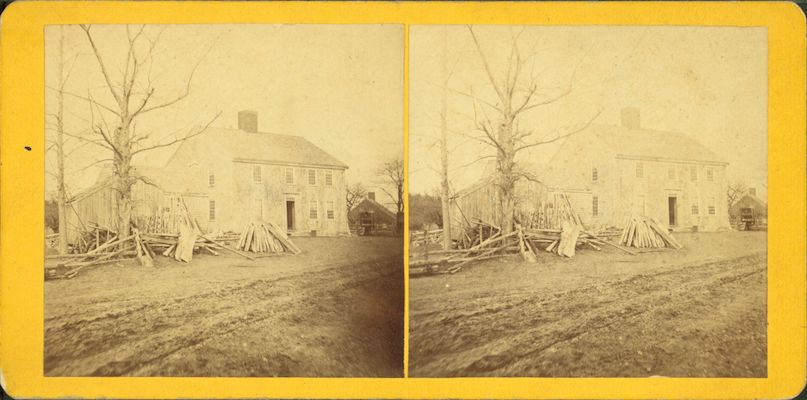 William Sturte­vant was in debt and thought his grand-uncles had mon­ey. On Feb­ru­ary 15, 1874, he grabbed a long wood­en stake and head­ed to this, their house. Grand-Uncle Thomas was on his way to the barn to feed his cows when William blud­geoned him. He then went into the house and blud­geoned his bedrid­den Great Uncle Sime­on. He rifled the house for mon­ey, and on his way out the door he killed the house­keep­er, Mary Buckley.
The inter­est in his exe­cu­tion was so great that tick­ets had to be issued. Inter­est­ing­ly, His­toric New Eng­land says that the pho­tog­ra­ph­er worked for the coun­ty. It would be inter­est­ing to know the coun­ty asked for stereo pho­tos, or whether he took them to sell for his own business.
Russell and John Allison, Putnam County, Tennessee, 1875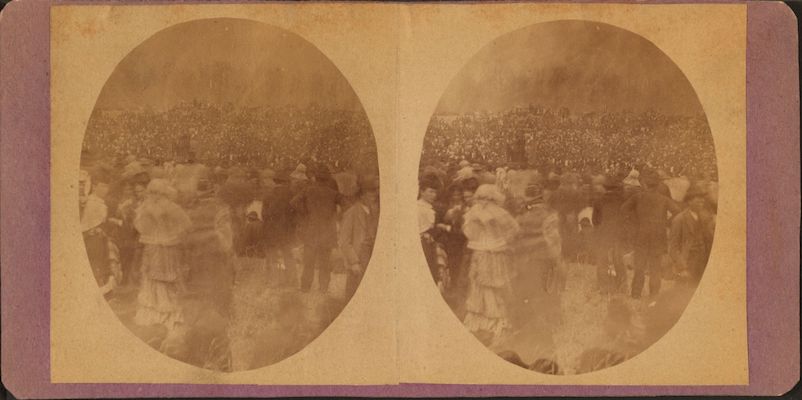 Joseph and George Bras­sel were broth­ers who mur­dered Rus­sell Alli­son in Put­nam Coun­ty, Ten­nessee, on Novem­ber 29, 1875, in the course of an attempt­ed rob­bery. When a posse came to arrest them, they killed John Alli­son in the fight. He was Rus­sell Allison's broth­er. While in jail, they tried to poi­son their guards with arsenic which had been smug­gled in to them. Then they broke their shack­le chains by twist­ing them back and forth for many hours. Lat­er they tried crawl­ing out under the floor­boards, but there wasn't enough space. Near the end, they con­vert­ed to the Methodist church. They dic­tat­ed an account of their lives, which they thought they could sell. It includ­ed a list of their oth­er crimes, some quite vicious.
At their hang­ing, they were allowed to speak to the crowd, and warned them of the evils of alco­hol. A long bal­lad was writ­ten about their crimes and execution.
Afterward
I know there are more true crime stere­os out there, based on list­ings in library and his­­tor­i­­cal-soci­e­ty cat­a­logs. As far as I can tell, though, they don't form a par­tic­u­lar­ly com­mon stereo genre.
For more stereo true crime, see Richard C. Ryder's arti­cle Mur­der, Mad­ness, Muy­bridge, and Gull in Stereo World; those issues are avail­able online (Part 1, Part 2). Ead­weard Muy­bridge was not only a pro­­to-cin­e­­ma pio­neer, but also a great stere­o­g­ra­ph­er, and a mur­der­er. Philip Glass wrote an opera about him, called The Pho­tog­ra­ph­er. Ryder also pro­pos­es a pos­si­ble con­nec­tion to Jack the Ripper.
Martin Schub (Minneapolis, Minnesota, USA)
I'm a retired elec­tri­cal engi­neer and one-time physi­cist, I've been tak­ing stereo pho­tos since the late 1980's and I'm a mem­ber of the Min­neso­ta Stereo Pho­tog­ra­phy Club. I used a Stereo Real­ist for many years, fol­lowed by a home­made fin­ger-sync dig­i­tal rig, fol­lowed by a home­made Stere­o­Da­ta Mak­er rig, and now I use a Fuji W1. I love stereo in all its forms. The feel­ing of look­ing through a win­dow into anoth­er time and/or place nev­er gets old.