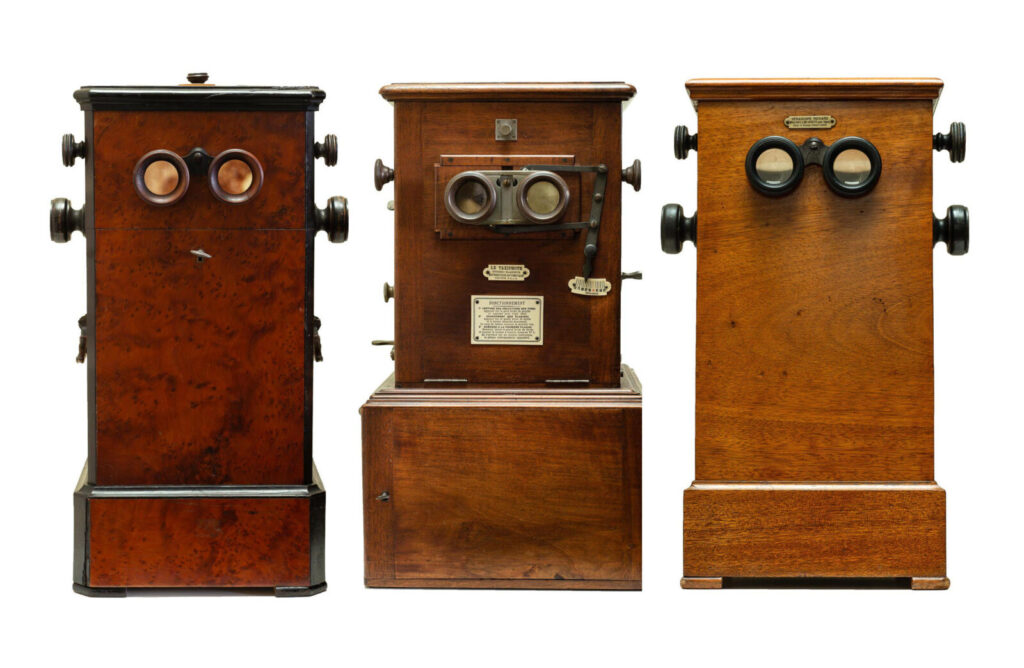 If stere­oviews allow us a jour­ney through time, stere­o­scopes are the vehi­cles that take us there. Antique stere­o­scopes are sim­ple yet ele­gant devices that come in a vari­ety of forms. Hold­ing an antique hand­held stere­o­scope, you can imag­ine the excite­ment some­one else may have felt receiv­ing it as a present for their birth­day or Christ­mas. On the oth­er hand, you also have floor stand semi-auto­mat­ed stere­o­scopes, that were designed to con­tain over a thou­sand stere­oviews. These served as a media cen­ter in the liv­ing rooms of the rich, meant to amaze every vis­i­tor, and per­haps even spark a bit of envy. Think of them as the antique equiv­a­lents of the lat­est flat screen TV mod­els! In some ways, antique stere­o­scopes are wit­ness­es of time, bring­ing old and for­got­ten moments back to life. In this sec­tion, we will intro­duce dif­fer­ent types of antique stere­o­scopes and their his­to­ry, and share tips on build­ing your own stere­o­scope col­lec­tion and restora­tion of these antique trea­sures.
---
Latest articles
---
written for the stereosite by André Ruiter, The Netherlands
In my pre­vi­ous post I shared some tips about col­lect­ing stere­oviews on online auc­tion sites. This time I will talk about col­lect­ing antique stere­o­scopes for glass stere­oviews from the peri­od 1850 to 1930. Some tips from my pre­vi­ous post can also be applied to stere­o­scopes, so I rec­om­mend to read this post first. How­ev­er, col­lect­ing stere­o­scopes comes with some addi­tion­al chal­lenges that I will address now.
Stereoscope types
There are two types of stere­o­scopes: hand­held stere­o­scopes and table stere­o­scopes. With­in these main groups there are many vari­a­tions and I will not cov­er all of them. The hand­held stere­o­scopes are gen­er­al­ly sim­ple devices to view stere­oviews one by one. A table stere­o­scope offers more func­tion­al­i­ty and this group also includes the sophis­ti­cat­ed mul­ti-view devices. In this post I will focus on a num­ber of view­ers that are read­i­ly avail­able.
Define your goal
First, you have to deter­mine your goal before acquir­ing a stere­o­scope. Do you want to use it for view­ing your col­lec­tion or is it pri­mar­i­ly intend­ed as a dec­o­ra­tive item in your show­case? The first view­ers from the peri­od 1850 – 1870 are beau­ti­ful, but they don't offer the best opti­cal qual­i­ty. You're bet­ter off with a lat­er mod­el from around 1910 – 1930 to view your col­lec­tion. I have a beau­ti­ful ear­ly Brew­ster style hand­held stere­o­scope from around 1860. It looks nice in my cab­i­net, but to enjoy my glass slides I pre­fer the Zeiss Ikon view­ers from the late 1920s.
Different formats
The most com­mon glass stere­oview for­mats are 45 x 107mm, 6 x 13cm and 8.5 x 17cm. Most stere­o­scopes only sup­port one for­mat. I've noticed that the sup­port­ed for­mat is not always men­tioned by the sell­er or an incor­rect for­mat is list­ed. Keep this in mind and con­tact the sell­er if in doubt.
Handheld stereoscopes
A wood­en closed box view­er is a good start to view your col­lec­tion. Find­ing such a view­er is quite easy because they're wide­ly avail­able. Not much can go wrong with these view­ers and if the sell­er has made a series of good pho­tos, the choice can be made quick­ly. Make sure the lens­es are clear and free of fun­gus and the eye­piece hold­ers are not rusty. Scratch­es on the wood­work are not your biggest prob­lem when your inten­tion is to use it for view­ing your col­lec­tion.
Table stereoscopes – slide tray
The show­piece in your col­lec­tion should be (in my hum­ble opin­ion) a beau­ti­ful slide tray mul­ti­view­er. These devices are easy to use, dec­o­ra­tive and pro­vide a good view­ing expe­ri­ence. The dis­ad­van­tage is that they are expen­sive and there is a greater risk that the advance mech­a­nism is not in opti­mal con­di­tion. They often use gears and springs to posi­tion the stere­oviews and to trans­port the slide tray over a rail. These are pre­ci­sion instru­ments and a small devi­a­tion can cause the glass slides to jam.
The most ide­al sit­u­a­tion is to test the device before buy­ing. If this is not pos­si­ble, the advice is to con­tact the sell­er and ask for detailed infor­ma­tion. Keep in mind that not every buy­er is aware of what they are sell­ing. The stere­o­scope may be inher­it­ed and the sell­er may have lit­tle knowl­edge of the device and how it works. This will become clear from the answers you'll get. If the sell­er has no clue, just move on or take the risk. If the sell­er has some knowl­edge about the the view­er, ask if it can show all images one by one, with­out get­ting jammed. If this is the case, you're prob­a­bly good to go.
After receiv­ing your stere­o­scope, I rec­om­mend you test it with some unin­ter­est­ing glass stere­oviews from your col­lec­tion. You don't want to destroy your pre­cious stere­oviews because of a jam­ming view­er.
About auction houses
Some­times stere­o­scopes are offered by an auc­tion house. They auc­tion large num­bers of objects at the same time and are not nec­es­sar­i­ly spe­cial­ized in stere­oscopy. You can ask if the device is in good con­di­tion, but often they sim­ply do not know and don't have the skills or time to per­form a test.
Slide tray included please…
If you want to use your desired stere­o­scope with slide trays, it's good to ask if at least one tray is includ­ed. When buy­ing a Tax­iphote or Métas­cope, this is less impor­tant because these slide trays are rea­son­ably avail­able. Find­ing a slide tray for a Polyphote or Mul­ti­phote can be a big chal­lenge.
Table stereoscopes – chain type
An alter­na­tive to the slide tray device is the chain type revolv­ing stere­o­scope. These are the most sim­ple mul­ti-view devices and they often sup­port both glass stere­oviews and paper stere­o­cards. They pop up on auc­tion sites reg­u­lar­ly for rea­son­able prices. Because of their sim­ple mech­a­nism they are often in good work­ing order, but the view­ing expe­ri­ence of these devices is gen­er­al­ly not very good and replac­ing stere­oviews is cum­ber­some. I have some chain type view­ers as I like their appear­ance, but I don't use them often for view­ing my col­lec­tion.
How is it presented?
Pay atten­tion to how the stere­o­scope is pre­sent­ed on the online auc­tion site. Some sell­ers ask $1000 for a table view­er, but all you can see are some blur­ry images and a descrip­tion "good con­di­tion". I can­not rec­om­mend these sell­ers. I pre­fer sell­ers who take the trou­ble to show a series of good pho­tos with an exten­sive descrip­tion. It's no guar­an­tee for a sat­is­fy­ing acqui­si­tion, but at least it's a good start.
Don't hes­i­tate to ask for extra images when in doubt. If the price is high, you should expect a sell­er to help you. It's also a good way to get a feel for the sell­er. How quick­ly does the sell­er respond? Do you get com­pre­hen­sive answers? It can all help you to pur­chase with con­fi­dence.
What's a good price?
In my expe­ri­ence, sell­ers gen­er­al­ly ask too much for a stere­o­scope or have a high start­ing bid. This applies to both hand­held stere­o­scopes and the table mod­els. Hand­held stere­o­scopes are eas­i­ly offered between $200 and $500, but a price between $100 and $250 for a device in good con­di­tion is more real­is­tic. If it's in mint con­di­tion or rare you can pay more. For a table stere­o­scope with slide trays in good con­di­tion you should think between $500 and $1,000. I bought my Tax­iphote for $800, which is a good price as it's in excel­lent con­di­tion. How­ev­er, this same Tax­iphote type is eas­i­ly offered for $1,500. My price esti­mates are based on the Euro­pean mar­ket. I've under­stood that the prices of stere­o­scopes in the Unit­ed States are much high­er.
written for the stereosite by André Ruiter, The Netherlands
I have been col­lect­ing stere­oscopy antiques for some years now. My most cher­ished pieces in my col­lec­tion are the mul­ti­view stere­o­scopes. I thought it would be inter­est­ing to com­pare these stere­o­scopes based on their mech­a­nism which is used to posi­tion the stereo views in front of the lens­es.
Mul­ti­view stere­o­scopes are table stere­o­scopes that are capa­ble of show­ing mul­ti­ple images in one view­ing ses­sion. These view­ers use a slide tray or chain in which the stere­oviews are placed. By turn­ing a crank or push­ing down a lever, the images are dis­played one by one. The mul­ti­view­ers with slide trays are only suit­able for glass stere­oviews. The chain view­ers are also avail­able for paper stere­o­cards and some­times they sup­port both glass and paper stere­oviews.
To com­pare the mul­ti­view­ers, I use four cat­e­gories: Chain, Lift­ing, Pick-Up and Grav­i­ty. I came up with these cat­e­gories myself so they're not com­mon­ly used clas­si­fi­ca­tions among enthu­si­asts.
Chain stereoscopes
The revolv­ing chain types are the old­est mul­ti­view stere­o­scopes. They were pro­duced from 1860 and are based on a patent of Alexan­der Beck­ers from New York. They are there­fore also called Amer­i­can or Beck­ers stere­o­scope.
This type of mech­a­nism includes a chain and hold­ers. The chain is made of wood and iron or com­plete­ly iron for view­ers that sup­port heav­ier glass slides. A stere­oview is placed in each hold­er. By turn­ing a knob, the stere­oview is placed in a ver­ti­cal posi­tion in front of the lens­es. Turn­ing the chain fur­ther will dis­play the next stere­oview. A chain can usu­al­ly have 50 stere­oviews, but there are also tall floor stand­ing mod­els that are suit­able for 100 or 200 images. The view­ing expe­ri­ence isn't great with these view­ers and replac­ing the stere­oviews can be cum­ber­some. Some mod­els allow remov­ing the entire chain with hold­ers from the device, which will make replac­ing the stere­oviews eas­i­er. Most Eng­lish and France man­u­fac­tur­ers from 1860 to 1930 had a revolv­ing chain type stere­o­scope in their prod­uct range.
Lifting stereoscopes
These are the most sophis­ti­cat­ed stere­o­scopes. They use a bake­lite or wood­en slide tray to place the glass slides. A slide tray has room for around 25 slides. Depend­ing on the mod­el, spe­cial trays for the thick­er Autochrome slides are also avail­able.
The lift­ing stere­o­scopes use an advanced mech­a­nism, often with gears and springs to dis­play the stere­oviews. The tray with glass slides is placed in the device. By turn­ing a crank or press­ing down a lever, a stere­oview is pushed up from the tray by a met­al pin and is placed in front of the lens­es. Rotat­ing fur­ther low­ers the stere­oview and places it back in the tray. With­in the same move­ment, the tray is moved for­ward over a rail so the next slide can be lift­ed.
The lift­ing stere­o­scopes are user friend­ly and offer a good view­ing expe­ri­ence. They require that the mech­a­nism is in good work­ing con­di­tion because a slight mis­align­ment will cause jam­ming and can break your glass slides. Some exam­ples of lift­ing stere­o­scopes are the Tax­iphote of Jules Richard, Unis France Métas­cope, Gau­mont Stéréo­drome, Erne­mann Mag­a­zin and the table stere­o­scopes of Hemdé.
Pick-Up stereoscopes
This is a vari­a­tion on the lift­ing stere­o­scopes. It was an inven­tion of Alexan­der Plocq from Paris and his Planox Stéréo­scope Mag­né­tique are the only mod­els that work this way. The mech­a­nism works rough­ly the same as the lift­ing stere­o­scopes, but instead of lift­ing the slides they are picked up by a mag­net. Each slide has to be pro­vid­ed with a met­al strip at the top to make the slides mag­net­ic.
The mech­a­nism works well in prac­tice, but I don't see any real advan­tages com­pared to the lift­ing devices. A dis­ad­van­tage is that you have to pro­vide every slide with a met­al strip. Once attached, you should leave it because remov­ing them can dam­age the glass and the emul­sion.
Gravity stereoscopes
This type of stere­o­scope excels because of its sim­ple mech­a­nism. It uses grav­i­ty to place the slides by a "falling motion". The lack of a sophis­ti­cat­ed mech­a­nism allows a com­pact design. The first exam­ple is the Mul­ti­phote, designed by Lucien Bize.
The Mul­ti­phote tray with 24 slides is placed on the top sec­tion of the device. By remov­ing a met­al slide at the bot­tom of the tray, the slides fall into posi­tion. The emp­ty tray is now placed in the bot­tom part of the device to catch the slides.
By turn­ing the knobs, the view­er part with the lens­es moves out­ward and the rear­most slide falls down and is placed in view­ing posi­tion. By turn­ing the knobs a lit­tle bit fur­ther, the slide drops into the slot of the slide tray. This pro­ce­dure is repeat­ed for every slide. After view­ing all the slides, the tray can be removed from the bot­tom part to reload the device.
The sec­ond exam­ple is the ICA Stere­ospekt from Ger­many. The slides of the Stere­ospekt are mount­ed in a met­al har­mon­i­ca belt with frames. The belt can con­tain up to 12 slides. The slides are firm­ly clamped in frames, which indi­cates that the slides should remain per­ma­nent­ly in the belt. By depress­ing a small lever on the right side, the slides are released and "fall" in front of the lens­es.