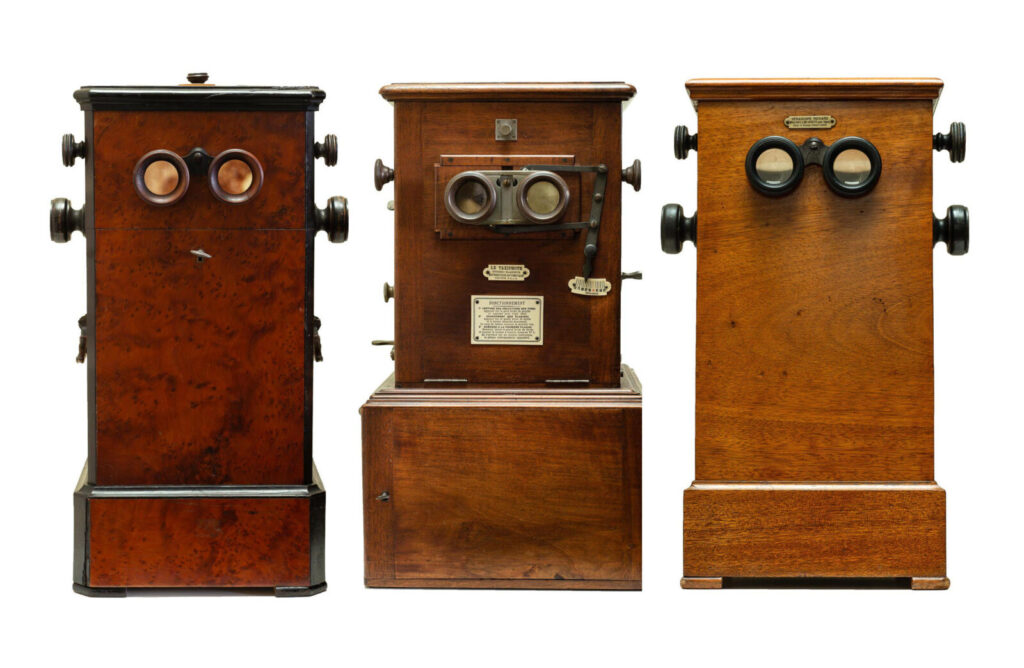 If stere­oviews allow us a jour­ney through time, stere­o­scopes are the vehi­cles that take us there. Antique stere­o­scopes are sim­ple yet ele­gant devices that come in a vari­ety of forms. Hold­ing an antique hand­held stere­o­scope, you can imag­ine the excite­ment some­one else may have felt receiv­ing it as a present for their birth­day or Christ­mas. On the oth­er hand, you also have floor stand semi-auto­mat­ed stere­o­scopes, that were designed to con­tain over a thou­sand stere­oviews. These served as a media cen­ter in the liv­ing rooms of the rich, meant to amaze every vis­i­tor, and per­haps even spark a bit of envy. Think of them as the antique equiv­a­lents of the lat­est flat screen TV mod­els! In some ways, antique stere­o­scopes are wit­ness­es of time, bring­ing old and for­got­ten moments back to life. In this sec­tion, we will intro­duce dif­fer­ent types of antique stere­o­scopes and their his­to­ry, and share tips on build­ing your own stere­o­scope col­lec­tion and restora­tion of these antique treasures.
---
Latest articles
---
written for the stereosite by Pascal Martiné, Germany
Jules Richard and the Verascope
Jules Richard took over his father's pre­ci­sion instru­ment com­pa­ny in the late 19th cen­tu­ry and patent­ed a stereo cam­era called the Veras­cope in 1893. The name is derived from the antique God­dess of truth Ver­i­tas and the Greek word σκοπός (watch­er). This neol­o­gism refers to the sep­a­ra­tion of the cam­era lens­es, which is just about the aver­age human eye spacing.
The cam­era itself was also a high pre­ci­sion instru­ment. It was entire­ly made of met­al to pre­vent humid­i­ty and tem­per­a­ture from affect­ing its oper­a­tion. But most impor­tant, it used a new image for­mat, 45x107mm, which was much small­er than the two com­mon stereo for­mats of that time – and so was the cam­era, too.
Despite a wide­spread inter­est in stere­oscopy, the small­er size was prob­a­bly the required spark that ignit­ed the boom in ama­teur stereo photography.
In addi­tion to hand­held view­ers, Richard also man­u­fac­tured revolv­ing stere­o­scopes for glass slides in the new for­mat. These view­ers were all sim­ply labeled Stéréo­scope, vues pris­es avec le Veras­cope (Stere­o­scope for views tak­en with the Veras­cope). Veras­cope became a syn­onym for ama­teur stereo cameras.
Even today, stereo cam­eras and stere­o­scopes in the French local adver­tise­ments are still titled Veras­cope and Tax­iphote some­times, even if they were made by oth­er manufacturers.
The revolv­ing stere­o­scope had one large draw­back: chang­ing the slides is extreme­ly annoy­ing and so you would only have access to a lim­it­ed selec­tion of your pho­tos in the end. And while the Veras­cope is a high pre­ci­sion device, flip­ping the glass slide through your field of vision is rather sim­ple and the view­ing expe­ri­ence is not as good as with a hand­held viewer.
Stéréo-Classeur
But in 1899 Richard and his tech­ni­cian Louis Colardeau patent­ed a new sys­tem that allowed the use of bake­lite mag­a­zines con­tain­ing 25 slides each. The dimen­sions of that stere­o­scope were the same as the com­mon table­top view­ers, but instead of 50 views, it could hold up to 300 views in draw­ers under­neath the mechanism.
They sim­ply called it Stéréo-Classeur (stereo cab­i­net), and it was offered in their cat­a­logue in 1900, unspec­tac­u­lar­ly besides the var­i­ous revolv­ing stere­o­scopes. This would change soon after.
Le Taxiphote
I believe that the Stéréo-Classeur was planned as a test run. The view­er was renamed to Tax­iphote one or two years lat­er – with­out any changes of the mech­a­nism. From then on there would be an update or exten­sion of the Tax­iphote fam­i­ly every year, wide­ly pro­mot­ed through advertisements.
If you thought the Tax­iphote has any­thing to do with the vehi­cle, you're wrong. The name is again derived from ancient Greek: the first part comes from τᾰ́ξῐς (arrangement/ordering) and the sec­ond from φῶς (light). In fact, this is quite close to the for­mer name Stéréo-Classeur.
It's time to take a clos­er look.
In most cas­es, the stan­dard Tax­iphote, lat­er called Tax­iphote foy­er moyen (long focus), con­sists of a stor­age base and an upper part hous­ing the mech­a­nism, just like the Stéréo-Classeur before. After plac­ing the mag­a­zine on a car­ri­er, a lever on the right oper­ates two met­al arms below the car­ri­er that push the indi­vid­ual slides to the ocu­lar lev­el for view­ing. These two met­al arms need to move very pre­cise­ly to pre­vent scratch­ing the neigh­bor­ing slides. When the slide is brought back into the mag­a­zine the car­ri­er is moved back­wards so that the met­al arms access the next slide. This hor­i­zon­tal move­ment is con­nect­ed to a counter on the left side of the Tax­iphote. If you hold down the main oper­at­ing lever you can turn the knob on the counter and nav­i­gate direct­ly to a spe­cif­ic slide in the magazine.
The new Veras­cope slides all had some blank space in between the two sin­gle images. This area was com­mon­ly used to record infor­ma­tion about the stereo pho­to, like place and date. Anoth­er lever on the left of the Tax­iphote tilts down an addi­tion­al lens and mir­ror sys­tem that enables view­ing that space with your right eye.
Final­ly, like all bet­ter stereo view­ers, the Tax­iphote also has adjustable focus.
In addi­tion to view­ing pho­tos, a 1902 adver­tise­ment tells us about a lantern attach­ment that could be used for pro­jec­tion over dis­tances of up to 4m. The com­bi­na­tion of lantern attach­ment and Tax­iphote result­ed in a huge appa­ra­tus that allowed only mono­scop­ic, and not stereo, pro­jec­tion. In 1923, the pro­jec­tion unit was sub­stan­tial­ly reduced in size, and in 1927, anaglyph 3D pro­jec­tion was introduced.
In 1903, an employ­ee of the Richard com­pa­ny wrote to a pho­tog­ra­phy reseller that the Tax­iphote would also be avail­able for the 6x13 and 8,5x17 for­mats. One year lat­er, Richard intro­duced anoth­er new for­mat upon sug­ges­tion of the mem­bers of the Stéréo­club Français. This 7x13 for­mat was said to be the most ratio­nal stereo for­mat for sev­er­al reasons.
These four for­mats were con­tin­u­ous­ly pro­duced even though the stor­age space in the base var­ied. In most cat­a­logues the names are as follows:
Tax­iphote nor­mal / foy­er ordi­naire / foy­er moyen for 45x107
Tax­iphote no. 1 for 7x13
Tax­iphote no. 1bis for 6x13
Tax­iphote no. 2 for 8,5x17
Also in 1904, Richard patent­ed a new fea­ture for all mod­els. From now on, the two ocu­lars were placed on two wood­en plates that allowed inte­roc­u­lar adjust­ment to suit the eye spac­ing of the indi­vid­ual person.
If the label on your device already bears the Tax­iphote name but the inte­roc­u­lar dis­tance can't be changed, then your unit was pre­sum­ably made between 1900 and 1903.
Le Taxiphote court foyer
It goes with­out say­ing that the dis­tance between the lens­es and the slide has to be at least the width of a mag­a­zine, which is almost 10cm. This is no prob­lem for the larg­er for­mats, but when view­ing Veras­cope slides, it feels like you were stand­ing in a dark room with a small win­dow, because large areas of your field of vision are just black space.
This seems to have both­ered Richard sev­er­al years. In my opin­ion, this was pos­si­bly the most chal­leng­ing task in the devel­op­ment of the Tax­iphote. It would take five patent­ed attempts final­ly result­ing in two dif­fer­ent solutions.
Modèle mécanique
There were sev­er­al hand­held Richard view­ers that had less dis­tance between the slide and the lens­es. This court foy­er (short focus) pro­vid­ed a supe­ri­or view­ing expe­ri­ence, where­as 45x107 slides still looked just like 6x13. Richard want­ed to make that pos­si­ble for the Tax­iphote as well. In 1905, two patents show mech­a­nisms that car­ried the indi­vid­ual slide both ver­ti­cal­ly from the mag­a­zine to the ocu­lar lev­el, and after­wards also hor­i­zon­tal­ly towards the lens­es. A cat­a­logue proves that this so called mod­èle mécanique was sold in 1909, but it is rarely seen. Prob­a­bly the mech­a­nism was not per­fect­ed yet – this would take a few more years.
Modèle optique
The more com­mon­ly used method was the so called mod­èle optique, which took a com­plete­ly dif­fer­ent approach. Instead of a hor­i­zon­tal move­ment, it used addi­tion­al block lens­es to mag­ni­fy the photo.
These lens­es could be either per­ma­nent­ly low­ered in front of the ocu­lars or man­u­al­ly by anoth­er lever on the left. Using lens­es for that pur­pose leads to some dis­tor­tion at the edge of the image, but over­all, the view­ing expe­ri­ence is quite sat­is­fy­ing, espe­cial­ly if you were annoyed by the black space around the image. On the oth­er hand, you had to pay quite a high price, because the stereo pho­to was cropped. Not much, but some­times you were going to miss details in the corners.
Modèle simplifié
Start­ing at 250 francs the aver­age price for a Tax­iphote would be around 300 francs. In 1908 Richard intro­duced a new ver­sion only for the Veras­cope for­mat at a price of 148 francs. The so called Mod­èle sim­pli­fié (sim­pli­fied mod­el) had a crank oper­at­ed mech­a­nism instead of a lever, and is very com­fort­able to use. In fact, you can eas­i­ly move back and for­wards just by turn­ing the crank the oth­er way around.
There was still a counter on the left with anoth­er extreme­ly clever improve­ment. While you need to hold down the lever of the oth­er Tax­iphote mod­els to freely nav­i­gate through the insert­ed mag­a­zine, you now just need­ed to push the knob before turn­ing. The crank oper­at­ing sys­tem was prob­a­bly the key for the fur­ther devel­op­ment of the mod­èle mécanique.
Still, this mod­el was cheap over­all. No stor­age base, no pro­filed cor­ners, poor con­struc­tion for read­ing slide titles, etc. In the cheap­est ver­sion, the adjustable inte­roc­u­lar dis­tance was also miss­ing. The sim­pli­fied prod­uct line was con­tin­u­ous­ly pro­duced though. A 6x13 ver­sion appeared in 1926, and in 1931 the wood­en body was enlarged for a more com­fort­able view­ing height and a stor­age base was added.
Mean­while, an elec­tric lamp attach­ment clair soleil was patent­ed in 1909 for all for­mats and the wood­en ocu­lar plates were replaced by adjustable eye­pieces entire­ly made of met­al, patent­ed in 1911. The lat­ter are a good hint for dat­ing Tax­iphotes, because the ser­i­al num­bers hard­ly pro­vide reli­able information.
Taxiphote court foyer, modèle mécanique – Part 2
Even though the mod­èle mécanique was already avail­able, it seems like­ly that Richard changed the mech­a­nism. This is extra­or­di­nary espe­cial­ly because the mech­a­nism wasn't changed in any of the oth­er mod­els, except the addi­tion of new features.
But in 1911, there are two more patents on the mod­èle mécanique. It seems to me that this new mech­a­nism was intro­duced anoth­er two years lat­er in 1913 because the price sud­den­ly jumped, while the prices for the oth­er mod­els remained the same. Indeed, it's worth it!
The mech­a­nism is now dri­ven by a crank, just like the mod­èle sim­pli­fié. One turn to lift the slide and anoth­er turn to move it towards the ocu­lars. No crop­ping of the image, no dis­tor­tion. The view­ing expe­ri­ence is fan­tas­tic. In my opin­ion this is real­ly the best Tax­iphote ever produced.
It takes also advan­tage of the push-and-turn mech­a­nism of the sim­pli­fied mod­el to nav­i­gate through the slides. The lens and mir­ror sys­tem for read­ing the slide title is now low­ered by pulling a chain on the left. I think this looks a lit­tle weird and unsta­ble com­pared to the for­mer lever mech­a­nism but it works very well.
Autochromes and the Taxiphote
Because of the suc­cess of col­or pho­tog­ra­phy achieved with Autochrome slides, many man­u­fac­tur­ers like Gau­mont, Plocq or Hemdé offered spe­cial mag­a­zines to han­dle Autochrome slides. This was nec­es­sary because Autochromes were devel­oped as direct pos­i­tives and there was no pos­si­bil­i­ty for invert­ing the left and right images, except by cut­ting the glass and switch­ing the posi­tions. There­fore, a sec­ond glass was typ­i­cal­ly added for sta­bi­liza­tion and pro­tec­tion because autochromes were extreme­ly prone to humid­i­ty. So, the slides were twice as thick as nor­mal slides. This is the rea­son why dif­fer­ent mag­a­zines were required.
Richard went a more sophis­ti­cat­ed way. Instead of cut­ting Autochromes he rec­om­mend­ed turn­ing the slides upside down (because this switch­es the left and right images as well!) and then attach­ing prisms on the ocu­lars to invert the image. These so called Redresseurs became avail­able 1913 as well.
Because Autochromes were expen­sive and dif­fi­cult to devel­op, a stereo pho­to col­lec­tion would typ­i­cal­ly con­sist of most­ly black and white pho­tos, with just a few col­or images. Switch­ing the Tax­iphote from view­ing black and white to col­or thus meant man­u­al­ly exchang­ing the ocu­lars from time to time. Unfor­tu­nate­ly, this would take a few moments each time.
This leads to the last addi­tion for the Tax­iphote mod­èle mécanique: A quick exchange mech­a­nism for the entire eye­piece assem­bly togeth­er with two addi­tion­al sets in a high-qual­i­­ty leather case. One set for Autochrome lens­es, and one set to change the short focus back to the long focus– for what­ev­er reason.
Further developments
In 1923, addi­tion­al mag­ni­fy­ing lens­es were avail­able also for the 6x13 and 7x13 Tax­iphotes. These had the same short focus effect as the mod­èle optique.
As men­tioned above there was a small­er design for the pro­jec­tion lantern in 1923 as well as an exten­sion and a redesign of the sim­pli­fied mod­el in 1926 and 1931. Also, in 1927 anaglyph pro­jec­tion units became avail­able. The 8,5x17 mod­el dis­ap­peared in 1930.
But, we can con­clude that all impor­tant devel­op­ments were fin­ished by 1915 and all mod­els were in con­tin­u­ous pro­duc­tion until the 30's. With the intro­duc­tion of the Veras­cope F40, the era of the mul­ti-slide-view­ers ended.
Deluxe versions and furniture
To arouse inter­est there were also spe­cial­ly designed deluxe ver­sions of the Tax­iphote that were not always avail­able accord­ing to catalogues.
For those who had larg­er pho­to col­lec­tions, there were stor­age cab­i­nets espe­cial­ly designed for the Tax­iphote and pro­duced by Richard. You could also buy just the draw­ers and incor­po­rate them into oth­er pieces of fur­ni­ture to suit your purpose.
Conclusion
The Veras­cope and the Tax­iphote are two halves of an unbe­liev­able stereo devel­op­ment effort that went on for 40 years essen­tial­ly with­out any changes. The Tax­iphote was export­ed to and patent­ed in many coun­tries. All this serves as an exam­ple of how attrac­tive stere­oscopy was at that time, and also con­firms the qual­i­ty of the Tax­iphotes as a tech­ni­cal device. We can only guess at the pres­tige of hav­ing a Tax­iphote at that time.
But what would bet­ter illus­trate the mean­ing of the Tax­iphote to its own­ers than the Autochrome stereo pho­to Thomas Asch found in one of his devices?
If not oth­er­wise stat­ed all pic­tures show pieces of my per­son­al col­lec­tion. I'm thank­ful that Sébastien Lemag­nen from antiq-photo.com pro­vid­ed me with some pho­tos as well as Thomas Asch and Paul Burford.
written for the stereosite by Keita Wangari, USA
3D film­strip view­ers are a fam­i­ly of stereo view­ers that gained promi­nence in the ear­ly 20th cen­tu­ry. In fact, it was a small film­strip view­er called Tru-Vue that re-intro­­duced 3D view­ing as a mid-cen­­tu­ry pas­time, made it more afford­able than ear­li­er stere­o­scope sets, and paved the way in the hearts and minds of con­sumers for the pop­u­lar 3D reel & card view­ers that would come lat­er. For this rea­son, Tru-Vue has often been called "the miss­ing link" in stere­oscopy. Although Tru-Vue was the most com­mer­cial­ly suc­cess­ful film­strip stereo view­er in the Unit­ed States, maybe even world­wide, it wasn't the first. Here, in chrono­log­i­cal order, I present some of the most inter­est­ing mid-cen­­tu­ry film­strip view­ers, includ­ing those that came before Tru-Vue, co-exist­ed and com­pet­ed with Tru-Vue and those that fol­lowed much lat­er. The scope of this arti­cle doesn't include 3D view­ers like Stéréo Alain, Celde, Pen­do­plast and Stereo-foto that use stereo trans­paren­cies in a roll format.
Homéos, 1910's
Dat­ing to around 1914, this 3D film­strip view­er is an acces­so­ry to the Homéos stereo cam­era (which is said to be the world's first 35mm stereo cam­era) and was cre­at­ed by the French indus­tri­al­ist Jules Richard who helped spread stereo pho­tog­ra­phy to the mass­es with the pop­u­lar Véras­cope line. The Homéos view­er is a small wood­en view­er that can be found with dif­fer­ent vari­a­tions on the design. One has film can­is­ters on the side to hold the film, a long han­dle under­neath that rotates the film and a lever to adjust the lens­es. Anoth­er can be found with­out those fea­tures and still anoth­er can be found where the eye­pieces are shaped differently.
Hollywood Filmoscope, 1920's
In 1929, an ad in the L.A. Times adver­tised the first show­ing of the Hol­ly­wood Fil­mo­scope, "a new device that moves a series of views on motion pic­ture film before your eyes in plas­tic relief." It sold for $2.50 with extra films going for 50 cents. All 15 films avail­able for it were Hol­­ly­­wood-relat­ed. Although this small met­al view­er says Hol­ly­wood on it, an arti­cle in the San­ta Ana Reg­is­ter dat­ed March 15, 1929 stat­ed that a Lagu­na Beach, CA com­pa­ny called Crafts­man Stu­dios signed a con­tract to pro­duce 200,000 Fil­mo­scope devices. Accord­ing to that arti­cle, the device should say "Made in Lagu­na Beach, Cal­i­for­nia" on it but I've not seen any with that word­ing. Patent was applied for in 1928 by Andre Bar­laiter and grant­ed in 1931. The device is rare and the films are extreme­ly rare.
Colleen Moore Magic Theatre
Colleen Moore was a famous silent movie star with a pas­sion for build­ing doll hous­es. In the late '20s, she spent today's equiv­a­lent of $7M to build an elab­o­rate doll­house. In the 1930's, the Mag­ic The­atre view­er and its accom­pa­ny­ing film served as an adver­tis­ing piece for the doll­house. The card­board ver­sion con­sists of 2 sep­a­rate pieces — one piece is insert­ed com­plete­ly inside the oth­er. The wood ver­sion, which may be an ear­ly pro­to­type, is one piece. A com­plete set with intact view­er, film, and brochure, all in good con­di­tion, is rare.
DeVry, 1930's
This view­er has ties to today's DeVry Uni­ver­si­ty and at least one of its films has ties to the Olympic swim­mer Jam Handy. The DeVry stereo view­er out of Chica­go was cre­at­ed by the movie pro­jec­tion com­pa­ny DeVry Corp which was found­ed by Her­man DeVry. It com­pet­ed with Chi­ca­­go-based Tru-Vue by also sell­ing films of the 1933 Cen­tu­ry of Progress World's Fair. In addi­tion to the 6 films for the world's fair, DeVry part­nered with the Jam Handy Pic­ture Ser­vice (also out of Chica­go) to pro­duce a 56-frame com­mer­cial film for Goodyear. Besides being an Olympic swim­mer, Jam Handy's com­pa­ny was well-known for pro­duc­ing tons of train­ing films for the mil­i­tary and auto com­pa­nies. As for the tie to DeVry Uni­ver­si­ty, in 1931 the same Her­man DeVry found­ed DeFor­est Train­ing School (named after his friend), it was renamed DeVry Tech­ni­cal Insti­tute in 1953, then renamed DeVry Insti­tute of Tech­nol­o­gy in 1968, then came part­ner­ships, stock, acqui­si­tions and a DeVry Inc came to be, then a DeVry Edu­ca­tion Group and some­where in the mix DeVry Uni­ver­si­ty was born.
Novelview, 1930's
An ad in the Day­ton Dai­ly News dat­ed Feb­ru­ary 26, 1939 announced "the amaz­ing 'Nov­el-view­er' as "a new sci­en­tif­ic mar­vel" that could be obtained, along with the Trea­sure Island film, for 10 cents plus one seal from a 1 lb can of Coco­ma­lt. Like DeVry, Nov­el­view (also known as a Movi­escope) was yet anoth­er com­peti­tor to Tru-Vue and was pro­duced by the Nov­e­l­art Com­pa­ny in New York. There are approx­i­mate­ly 65 unique film titles, the rarest and most valu­able being a series of base­ball films. There are 2 ver­sions of the view­er — one with a sil­ver face­plate that slides in and out to advance the film and one a brown face­plate and a knob to advance the film. The sil­ver ver­sion can usu­al­ly be found as part of a radio pro­mo­tion pack­age adver­tis­ing Jack Armstrong's Jun­gle Adven­ture. The film, fea­tur­ing Jack Arm­strong in Africa, was a pro­mo spon­sored by Wheaties on the Jack Arm­strong radio show. A com­plete ver­sion of that pack­age with view­er (not rust­ed), intact film, brochure, and box is hard to find.
Tru-Vue, 1930's
The Tru-Vue film­strip stereo view­er was pro­duced by Rock Island Bridge & Iron Works in Rock Island, Illi­nois, Unit­ed States. As men­tioned ear­li­er, Tru-Vue ush­ered in a whole new gen­er­a­tion of 3d view­ing. I could spend 10 pages going through its his­to­ry, mar­ket­ing, and the evo­lu­tion of its view­ers in the decades before and along­side View-Mas­ter. How­ev­er, in the inter­est of space in this arti­cle, I'll just high­light a few things and then write a sep­a­rate arti­cle just on Tru-Vue. Joshua H. Ben­nett invent­ed the first Tru-Vue stere­o­scope after exper­i­ment­ing with the con­cept for many years and brought the idea with him when he came to work for Rock Island Bridge & Iron Works in 1933. Orig­i­nal­ly, the device was used to doc­u­ment and show­case the dam being built over the Mis­sis­sip­pi riv­er but the open­ing of the 1933 Cen­tu­ry of Progress World's Fair in Chica­go pre­sent­ed a whole new mar­ket­ing oppor­tu­ni­ty that they took advan­tage of. Tru-Vue would go on to cre­ate numer­ous styles of view­ers, over 400 con­sumer films and many com­mer­cial films. They would even­tu­al­ly lose busi­ness to Sawyer's View-Mas­ter and become acquired by them.
True-View, 1950's
The ele­phant in the room: almost an exact copy of the 1940's Tru-Vue stereo view­er is the dif­fer­ent­ly spelled "True-View" film­strip view­er from S.E.L. (Sig­nalling Equip­ment, Ltd) out of Eng­land. There are a cou­ple of dif­fer­ent the­o­ries as to how they came to pro­duce exact repli­cas of Tru-Vue's view­er, pack­ag­ing, instruc­tion sheet — every­thing! — with­out suf­fer­ing harsh con­se­quences from Tru-Vue. I dis­cov­ered a new clue in a 1949 arti­cle where Tru-Vue's chief sales rep Fred B. Ingram stat­ed, "Eng­land is out at the moment, because of the pound deval­u­a­tion. Pre­vi­ous­ly, Lon­don was one of our big for­eign mar­kets." Giv­en that par­tic­u­lar insight, it makes sense that a "dif­fer­ent" ver­sion would sud­den­ly appear in that mar­ket and quick­ly cap­i­tal­ize on the absence of the orig­i­nal Tru-Vue by visu­al­ly dupli­cat­ing Tru-Vue's assets. Their films are dif­fer­ent though — a set of 30 film­strips focus­ing on Lon­don scenery, the Betram Mills' Sil­ver Jubilee cir­cus, British rail­ways and oth­er Eng­­land-relat­ed subjects.
Verascope F40, 1940's
Out of France in the late 40s & ear­ly 50's, this beau­ti­ful film­strip view­er was a com­pan­ion to the F40 cam­era. It takes in light from a dif­fuser on its top and has a revers­ing prism behind each lens so you can view image pairs in 3D direct­ly from the cam­era, with­out hav­ing to cut, flip and mount the images. The first ver­sion was mahogany & chrome. A lat­er ver­sion was made from black bake­lite and was designed to com­plete­ly con­tain the film­strip inside the unit. Both could be mount­ed on a stand which is extreme­ly hard to find today.
Sightseer, 1950's
This small bake­lite stereo film­strip view­er from API, Ltd in Eng­land is fair­ly hard to find, as are the films. The view­er came in at least 3 col­ors that I've seen and there are about 204 Sight­seer films rang­ing in top­ics from city scen­ics (Oxford, Lon­don, Can­ter­bury, Edin­burgh, etc.) to Loco­mo­tives, Madame Tus­saud and a Dog Show.
Pan-Pet, 1970's
Jump­ing a cou­ple of decades ahead to the '70s, Japan host­ed its first world fair in Osa­ka in 1970 called Expo '70 — the theme was Progress and Har­mo­ny for Mankind. Thanks to Gakken in Japan pro­duc­ing this plas­tic panoram­ic film­strip view­er, we can see panoram­ic views of the fair in 3D! In addi­tion to 5 series of films from the Expo, Pan-Pet pro­duced films on golf, trains and nudes.
3Discover, 1990's
Last­ly, we'll again take a 2‑decade jump to the 90's to take a look at this the bat­tery-oper­at­ed, car­tridge-based, panoram­ic stereo film­strip view­er 3Discover by 3D Vision in Cana­da. You can advance the film in either direc­tion using the but­tons on top of the view­er and it makes a cool, and odd­ly sat­is­fy­ing, whirring sound as the pic­ture changes. There are over 20 car­tridges avail­able, cov­er­ing sub­jects from trav­el to the solar sys­tem to insects to Celine Dion and the qual­i­ty of the col­or images is superb.
written for the stereosite by Pascal Martiné, Germany
Why Restore? Guiding Principles
A lover of antiques also loves the sto­ries they come with and the traces those sto­ries have left – some­thing which we call 'pati­na'. We must thus ask the ques­tion of why one would even con­sid­er restora­tion, a process which will sure­ly alter an object.
Water stains, cracks, even the loss of parts — are these flaws wor­thy of restora­tion? Don't we have to pre­serve the arti­fact as it is, with its his­to­ry intact? This is cer­tain­ly a valid are­na for debate. For me per­son­al­ly, there are some very good argu­ments for restora­tion. How­ev­er, one should always err on the side of cau­tion. These are applic­a­ble to antiques in gen­er­al, but are par­tic­u­lar­ly rel­e­vant when con­sid­er­ing stereo­scop­ic antiques:
First­ly, it is usu­al­ly a goal of mine to restore the func­tion­al­i­ty of stere­o­scopes and stereo cam­eras to a point where they are still usable as intend­ed. This also includes con­ser­va­tion, ensur­ing that func­tion­al­i­ty will not be lost in the com­ing decades.
Sec­ond­ly, things like dirt or water dam­age might pre­vent us from under­stand­ing how an object may have looked orig­i­nal­ly, or how com­fort­able it may have been to use; in short, how the object would have appeared to its con­tem­po­raries. This, in my opin­ion, is also part of his­tor­i­cal research on a par­tic­u­lar object.
Inevitably, antiques are only ever avail­able in lim­it­ed quan­ti­ties. Their cur­rent own­ers might not always con­sid­er them to be worth pre­serv­ing, although the Inter­net now makes it easy to get back­ground infor­ma­tion and esti­mate the demand for objects. Nev­er­the­less, a stere­o­scope or stereo cam­era that is in poor con­di­tion is less like­ly to find a buy­er, and might there­fore per­ma­nent­ly dis­ap­pear. In addi­tion to a mea­sure­able increase in val­ue, a restora­tion is often the last resort in sav­ing an object that has already sur­vived destruc­tion for a cen­tu­ry or more.
I have already men­tioned that the pati­na of an antique is a con­sid­er­able attrac­tion, and it is desir­able in any case that the age of an antique remains obvi­ous to the observ­er. When I restore a stere­o­scope or stereo cam­era, I am not try­ing to give the impres­sion that it is a mod­ern prod­uct. It is also not my intent to improve its per­for­mance from how it was orig­i­nal­ly con­struct­ed, even if lat­er mod­els from the same man­u­fac­tur­er did exact­ly that.
When con­sid­er­ing restora­tion, I always ask myself one very sim­ple ques­tion: What would this stere­o­scope look like today if it had nev­er dis­ap­peared from its owner's liv­ing room, but had been cher­ished and cared for con­tin­u­ous­ly for over 100 years?
Disassembly and Reassembly
Look­ing at an old stere­o­scope, it is easy to see that the mov­ing parts are worn, and that freely acces­si­ble sur­faces show abra­sion. This is usu­al­ly the result of nor­mal use and super­fi­cial clean­ing. Stub­born dirt is main­ly found in cor­ners and cracks, or behind levers, cranks, knobs, or the ocu­lars. Nor­mal use main­ly leaves behind dust and bod­i­ly flu­ids, such as sweat, which has hard­ened from decades of stor­age in damp and poor­ly ven­ti­lat­ed rooms.
Whether you want to per­form a rel­a­tive­ly super­fi­cial clean­ing or a full restora­tion, it is impor­tant to dis­as­sem­ble the stere­o­scope as much as pos­si­ble! There are four main rea­sons for this:
First, there are some areas that you sim­ply can­not reach at all, e.g., the inside of the open­ings through which the eye­pieces are moved when focus­ing. But it is pre­cise­ly in these places that fur­ther abra­sion tends to hap­pen when the stere­o­scope is in use.
Sec­ond, dif­fer­ent mate­ri­als require dif­fer­ent clean­ing tech­niques. Clean­ing wood with liq­uids dam­ages met­al parts and, con­verse­ly, pol­ish­ing met­al makes neigh­bour­ing shel­lacked wood parts look dull and scratched. With­out com­plete­ly dis­as­sem­bling an object, there is no way of com­plete­ly clean­ing the areas of tran­si­tion from one mate­r­i­al to the other.
Third, clean­ing some­times requires the appli­ca­tion of some mechan­i­cal force to the object. Not to men­tion clamp­ing parts that need to be re-glued, using a ham­mer to fit in miss­ing parts, or replac­ing lost nails. If every­thing is still assem­bled, you may loosen, bend, or break intact con­nec­tions in doing so.
Final­ly, this is also about the phi­los­o­phy of restora­tion. We want to work con­ser­v­a­tive­ly through­out the entire process and, if pos­si­ble, even reverse process­es of decay. How­ev­er, if you were to clean an object with­out dis­man­tling it first, you may actu­al­ly accel­er­ate the process of decay. This is because wear will inevitably con­tin­ue on the freely acces­si­ble areas by your clean­ing activ­i­ty, while dirt in cracks and crevices has not ever been reached. This might lead to a sit­u­a­tion where you have to apply new paint because you rubbed the worn old paint off the already worn wood­en sur­face even though you real­ly only want­ed to get to the back of a Bake­lite knob.
Tools
A small stan­dard tool­box is ide­al for dis­man­tling, since it usu­al­ly con­tains screw­drivers in var­i­ous sizes as well as flat-nose pli­ers and side cutters.
If you want to fix, grip or pull some­thing with the flat-nose pli­ers, remem­ber to use a piece of fab­ric or cork to pre­vent the pli­ers from scratch­ing your sur­face. You can use the side cut­ter to loosen (not to cut off!) small nails. This is espe­cial­ly use­ful for remov­ing things like manufacturer's labels.
The most impor­tant tool, how­ev­er, is the screw­driv­er. Stereo­scop­ic antiques typ­i­cal­ly uti­lize slot­ted screws exclu­sive­ly (not Phillps head or Allen head). For the small­er screws, you may have to resort to watchmaker's tool sets, but stan­dard screw­drivers can usu­al­ly be used suc­cess­ful­ly here. How­ev­er, espe­cial­ly the larg­er screws used in antique stere­o­scopes tend to have much nar­row­er slots than mod­ern screws of the same size. So, a mod­ern screw­driv­er of the prop­er blade width won't fit in the slot, while a watchmaker's screw­driv­er which is thin enough to go in the screw slot won't be wide enough to apply the mechan­i­cal force nec­es­sary to turn the screw. My rec­om­men­da­tion: Buy a large screw­driv­er with a com­fort­able han­dle and a blade about 4 mm (i.e. 1/8 in) wide and grind the blade down to be much thin­ner — as flat as a but­ter knife.
If with the right tools, many screws will still refuse to loosen straight away. If the shanks are met­al, care­ful­ly spray the head with some pen­e­trat­ing oil, e.g. spray-on WD-40, and leave it to do its job. Some­times you will have to do this mul­ti­ple times before unscrew­ing is possible.
If the screw head is recessed deep into the wood, it helps to care­ful­ly scrape the head free with a knife.
If the screws are dirty, you can scrape out the slot in the screw with the cor­ner of the screw­driv­er head. It might also help to loosen the screw by try­ing to turn it back and forth a lit­tle at first. If it gets dif­fi­cult and you have to use more force, hold the neck of the screw­driv­er to keep it from slip­ping and scratch­ing the surface.
Procedure
I have come across dif­fer­ent makes and mod­els of stereo­scop­ic antiques time and again over the past few years and it is impos­si­ble to give a com­plete expla­na­tion. Still, there are a few things in common.
For exam­ple, eye­pieces or lens­es can usu­al­ly be unscrewed and dis­as­sem­bled by hand. Beware of too much pres­sure! If you grip them too tight­ly, you may break or bend the eye­piece mounts or the thread­ed rings! It's best to place your palm flat against the entire ring and then twist. If your hand keeps slip­ping, try putting on rub­ber gloves.
Levers that do not have a screw can some­times be amaz­ing­ly easy to pull out. Often, how­ev­er, nipped nails also serve as pins for hold­ing them in place. If this is the case, these levers are gen­er­al­ly impos­si­ble to detach.
If pris­mat­ic lens­es or glass panes are held in place with pieces of wood glued inside the device, see if you can gen­tly break off these pieces of wood with your bare hands. You can also use a knife or a screw­driv­er as a lever. Make sure that any dam­age you may cause will not be vis­i­ble from the out­side and con­sid­er whether it is worth dis­man­tling this part of your object for the restoration.
Depend­ing on the order in which you do things, you won't have to dis­man­tle every­thing at once. For exam­ple, it is advis­able to keep eye­pieces assem­bled when you are not work­ing on them so that you don't have too many small parts out at a time. A type case or a mag­net­ic tray is ide­al for stor­ing the small­est parts.
The mech­a­nisms inside larg­er table stere­o­scopes can usu­al­ly be tak­en out of their cas­ings and cleaned with­out fur­ther dis­man­tling is necessary.
When reassem­bling the device after clean­ing, you will notice that screws or nails may no longer grip because the hole has got­ten too large. To fix this, spread some wood glue on the tip of a tooth­pick, insert it into the hole in the wood, and then break it off. To pre­vent the screw from chang­ing its posi­tion, you can use a small nail to pre­pare a hole in the screw's orig­i­nal posi­tion by hand.
Expect hav­ing to replace rusty screws and not be able to reuse small nails. It's impor­tant to check your local hard­ware store for suit­able replace­ments before dismantling.
Cleaning and Finishing
The major­i­ty of my restora­tion process con­sists of very thor­ough cleaning.
Lacquered Surfaces with Glossy Finish and Bakelite
I use the same clean­ing flu­id for shel­lac-pol­ished wood, lac­quered met­al with a glossy fin­ish, and Bake­lite parts. There used to be a prod­uct from the Ger­man com­pa­ny Clou for pol­ish­ing shel­lac – a water-based sus­pen­sion that con­tained a lit­tle soap and pumice pow­der as an abra­sive. The liq­uid soap was ide­al for loos­en­ing encrust­ed dirt, and the abra­sives smoothed the sur­face with­out leav­ing any vis­i­ble marks. The flu­id was applied with a ball of cloth and, after dry­ing, pol­ished with a clean cloth until it was shiny. Unfor­tu­nate­ly, this prod­uct was discontinued.
Two years ago, I final­ly came across an alter­na­tive that is easy to make at home. There are many dif­fer­ent pol­ish­ing pastes for car paint that con­tain abra­sives. Look for a water-based prod­uct and above all, make sure it does not con­tain any wax or sil­i­cone. Dilute the prod­uct with water until it has reached the con­sis­ten­cy of milk.
The appli­ca­tion is then exact­ly as described above – there will prob­a­bly be some light cloud­ing on the sur­face after the prod­uct has dried (like­ly due to the abra­sive), but it can eas­i­ly be wiped off with a damp cloth. After­wards, you should dry the sur­face quick­ly with a fresh, clean cloth and pol­ish it until it is shiny.
A final treat­ment is option­al after clean­ing. Bake­lite gets a nice, even shine if you treat it with colour­less wax. Usu­al­ly there are spe­cif­ic prod­ucts for the care of antique wood­en fur­ni­ture. After rub­bing the wax in, let it dry com­plete­ly and pol­ish it briefly, and thor­ough­ly, with a dry cloth until it shines.
The same treat­ment is also use­ful for wood with a shel­lac sur­face; iso­lat­ed scratch­es or blunt spots can be con­cealed well this way. How­ev­er, be care­ful to apply very lit­tle wax and avoid unnec­es­sary con­tact with the sur­face for sev­er­al days after pol­ish­ing. The wax takes a long time to dry com­plete­ly because it can­not be absorbed into the wood. Don't wor­ry about over­do­ing it. You can com­plete­ly remove excess wax with a soft cloth. I strong­ly advise against treat­ment with stan­dard liq­uid oily stan­dard fur­ni­ture pol­ish! The oil pen­e­trates even the small­est cracks in the paint and pulls into the wood under­neath. This results in dark spots, that will be irre­versible or at least vis­i­ble for a long time.
Cau­tion: Repairs to wood, met­al and Bake­lite parts must be made before the final treat­ment of the surface!
Waxed Wood
I gen­er­al­ly try to change the orig­i­nal sur­face as lit­tle as pos­si­ble. An excep­tion is waxed wood, as there are water stains under the wax lay­er and new wax that is applied to the sur­face com­bines seam­less­ly with exist­ing wax residues (in con­trast to lacquer).
If the dirt is just super­fi­cial, I resort to the same method I explained in the pre­vi­ous sec­tion. In the case of water stains, heav­i­ly bleached wood, or par­tial loss of the wax lay­er, I remove the old wax lay­er or loosen it. To do this, I rub the wood thor­ough­ly with a bale of the finest steel wool (grade 0000), which I reg­u­lar­ly soak in clean­ing gaso­line. This process wash­es off the old wax and at the same time smooths the sur­face. The result always looks ter­ri­fy­ing. Sur­faces appear spot­ty and extreme­ly cloud­ed, like a bad­ly wiped school blackboard.
Do not try to repeat the process until the wood looks even, as this would mean that you've sand­ed off the entire top lay­er of the wood. This is nei­ther desired nor nec­es­sary, and would only dis­tort the orig­i­nal colour. You can always check how the sur­face will look lat­er as long as the clean­ing gaso­line has not evap­o­rat­ed and the wood is still damp.
From here there are sev­er­al options:
a) Deep scratch­es, break­outs, or oth­er areas where the orig­i­nal sur­face has been com­plete­ly removed and which there­fore emerged bright­ly before remov­ing the wax lay­er can be re-coloured with wood stain (water-based with­out any wax com­po­nents) in the appro­pri­ate colour.
b) If the wood in gen­er­al, or in larg­er areas, looked very pale and colour­less, you can rub the entire wood with lin­seed oil var­nish. Let the var­nish take effect briefly, rub off any excess liq­uid with a cloth and let it dry sufficiently!
c) If, by and large, the wood looked even and had a nice colour before remov­ing the lay­er of wax, skip both of the above steps and apply a new lay­er of wax straight­away. Use a colour­less wax made for wood­en fur­ni­ture. There are often spe­cial prod­ucts for antiques. Dis­trib­ute the wax with a piece of cloth. Too much wax won't harm your sur­face, but it will cause you to have to pol­ish more. For starters, the sur­face should feel like your hands after putting on hand cream. Let the wax dry long enough and rub it off briefly and vig­or­ous­ly, cre­at­ing a satin gloss. Rub­bing for too long will heat up the wax, caus­ing you to mere­ly smear it around. If in doubt, let it dry again. Cracks and ridges are eas­i­ly pol­ished with a brush. If at the end you still see rub­bing pat­terns, you have prob­a­bly used too lit­tle wax, or the wood has soaked up too much of it. In this case, just repeat the process.
Cau­tion: repairs to the wood must be made before oil and wax are applied!
Metal
Clean­ing met­al parts that have not been paint­ed or tem­pered is gen­er­al­ly very easy, but might require patience and focus. For stereo­scop­ic antiques, you'll most­ly encounter brass, and pos­si­bly nick­­el-plat­ed brass. Rub off any dirt or stains with the finest steel wool (grade 0000) with­out apply­ing too much pres­sure. Not all stains can be com­plete­ly removed, and you always have to con­sid­er when to stop. There are lim­its to clean­ing, espe­cial­ly with nick­­el-plat­ed brass.
Tem­pered met­al can some­times be cleaned at least a lit­tle with pen­e­trat­ing oil and a cloth. But be very care­ful: even a lit­tle too much pres­sure will cause the colour to come off.
The clean­ing of the mechan­i­cal work of table stereo view­ers is most­ly done by sim­ply remov­ing dust, dried-on oil, or graphite. I use a tooth­brush on which I put pen­e­trat­ing oil, for exam­ple spray-on WD-40. I rub larg­er areas clean with an oil-soaked cloth. Oil the mov­ing parts, but oth­er­wise rub off all of the oil after­wards. Do not use sand­pa­per or steel wool. Unfor­tu­nate­ly, I speak from expe­ri­ence when I say that these leave per­ma­nent traces.
Leather
I use Vase­line or mod­ern coloured shoe pol­ish to care for leather. I make sure not to use any prod­ucts with grease, as it tends to react with the leather in the long term, mak­ing it brit­tle. Fur­ther infor­ma­tion can be found with­in the book restora­tion com­mu­ni­ty if needed.
Repairing and replacing
In com­par­i­son to pos­si­ble seri­ous dam­age, every­thing that has been said so far is rel­a­tive­ly man­age­able. If a stere­o­scope or stereo cam­era is not only heav­i­ly soiled, but has parts that are bro­ken off, per­ma­nent­ly stuck togeth­er or have even dis­ap­peared com­plete­ly, you must always decide on a case-by-case basis. Still, there are a few com­mon meth­ods that I would like to address briefly:
Gluing
Bone glue was most fre­quent­ly used in antiques, and we can­not pro­duce it today with­out great effort. That is why I myself use mod­ern glue for my restora­tions. I make sure, how­ev­er, that it doesn't con­tain any sol­vents, because I don't know to what extent those sol­vents might attack the materials.
Usu­al­ly wood glue takes some time to dry, mak­ing it is essen­tial to hold the parts togeth­er with clamps. Don't for­get to put wood or card­board under­neath the clamps to avoid scratch­ing the sur­face. I also use white book­bind­ing glue for leather or tex­tile. Book­bind­ing glue retains some elas­tic­i­ty and dries clear.
White glue that spills out from cracks when glu­ing things can be eas­i­ly scraped off with a fin­ger­nail once it has hard­ened a bit. Any left­overs can then be wiped off with a damp paper towel.
Super­glue is use­ful for bro­ken Bake­lite parts and two-part resin epoxy is suit­able for met­al parts that are sub­ject to stress.
Bending
Bent met­al parts are very com­mon. Most­ly they are not cast met­al parts, but rather wires, stamped sheet met­al or the like. If you are care­ful and think care­ful­ly about where to start, most parts can eas­i­ly be bent back into shape. I most­ly use flat-nose pli­ers for this. Don't for­get to put a piece of fab­ric between the pli­ers and the met­al part! I usu­al­ly only use only one pair of pli­ers while I hold the part with my bare hand. I like to think that that gives me a bet­ter sense of how much strain the met­al is under when bending.
Coloured Wax Putty
It is not uncom­mon for antiques to be infest­ed with house­hold pests, e.g. wood­worm. After dis­man­tling, it makes sense to treat the infest­ed parts either with a pes­ti­cide, or put in the oven. The tell-tale holes in the wood can usu­al­ly be hid­den well with coloured wax. Coloured wax is also good for fill­ing in small cracks or imper­fec­tions, both in wood and in Bakelite.
Felt
Even after a num­ber of restored stere­o­scopes, you can still dis­cov­er new things! Many stere­o­scopes have two met­al rings in their wood­en cas­ings, through which the tubes of the eye­pieces move when we adjust the focus. Felt or vel­vet was always used inside these rings. How­ev­er, one can often no longer find the slight­est trace of it. If you look close­ly, you might at least see the glue residue. I def­i­nite­ly rec­om­mend putting a thin lay­er of felt back on. This pre­vents the met­al tubes from being scratched and, above all, sta­bi­lizes the guide when set­ting the focus, which often remains a bit wob­bly with­out felt.
Spare Parts
Although I said at the out­set that restora­tion is some­times the last chance to save an antique from destruc­tion, there are also those that are too dam­aged to save. Keep an eye out for these objects. Some­times they can serve as a source of replace­ment parts. In par­tic­u­lar, the eye­piece frames and Bake­lite parts were made by large man­u­fac­tur­ers, and are the same for most stere­o­scopes. The same thing is true for screws. Even if you ever need to replace a piece of wood, it is cer­tain­ly prefer­able to use a vin­tage piece of wood that might allow you to keep the orig­i­nal shel­lac surface.
Conclusion
I would like to return to my guid­ing ques­tion: "What would this stere­o­scope look like today?" Restor­ing always brings me clos­er to a pos­si­ble answer even though this remains always just an approx­i­ma­tion. Anoth­er pic­ture that I used in my arti­cle was to reverse a process of decay. This means, restora­tion is always like a jour­ney into the past and even if you restore reg­u­lar­ly, you will nev­er know where it leads you. Anoth­er aspect is becom­ing kind of inti­mate­ly famil­iar with the object you are work­ing on, exam­in­ing it close­ly, decid­ing wether to do a step of restora­tion or not and still being excit­ed. Turn­ing an old and for­got­ten stere­o­scope into a tru­ly per­son­al object is invalu­able. It's more than just find­ing it. In some way it's also recre­at­ing it and lit­er­al­ly becom­ing involved in its history.